Winter and its difficult conditions with slippery roads are still a problem today. Now on top of that, add the aspect of having to drive up a steep mountain. This not being enough, now imagine only having 1930s technology available.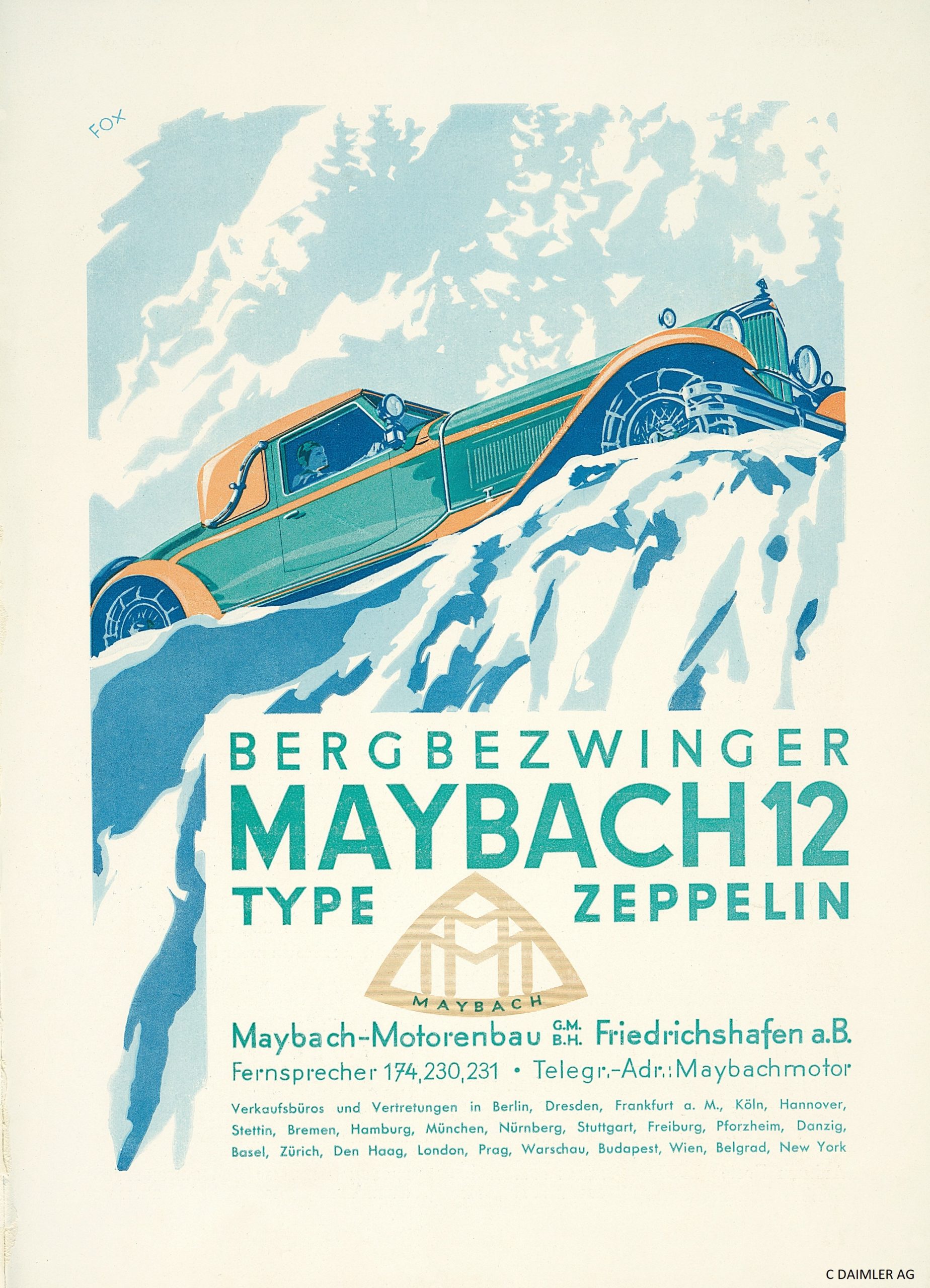 It was this especially adverse environment for a car that MaybachMotorenbau (Maybach Engine Works) used for one of its most iconic adverts. The automobile driving up strong ascent is rendered in hues of green and orange to create a strong complementary contrast. Shades of blue are used to depict the snowy mountain which constitutes the foreground and background. The typography is neatly embedded in square shape into the motive – it reads Maybach Bergbezwinger ('Mountain Conqueror'), Maybach 12, Type Zeppelin followed by the contact information of Maybach Engine Works. This data is followed by an impressive list where Maybach agents were established back then : It starts with Berlin and ends with New York.
Advertising and its promises are one thing one may say – so how much reality is in this graphically beautifully executed artwork ? One has to start by answering this question by looking at the technical aspects that Maybach cars were bringing to the table. Maybach cars which entered the market in 1921 were absolute state of the art and demonstrated what was possible concerning powerful engines and gears combined with groundbreaking technical intricacies that were added. A high torque combined is an essential aspect that Maybach car engines were known for – ease of acceleration and managing ascent with no problems were two of the more obvious profits. Maybach however used this aspect to help enable features that were unheard of before, namely the Vorwählschaltung (Preselection Gear-​Shift Mechanism) that allowed to switch gears via a lever on the steering wheel. Good elasticity is another feature of the engines that Maybach Engine works constructed their car engines with. Due to this characteristic increases in strain (in the sense of an increase in driving resistance), such as when driving uphill as in our example, can be managed without changing gear despite a drop in speed.
These and other technical aspects combined with long-​lasting quality made it possible to take part in races and endurance rides. Some of which, namely the 1924 Winter Ride organized by the ADAC (Acronym for Allgemeiner Deutscher Automobil-​Club, General German Automobile Club, founded in 1903 and today Europe's largest motoring association) laid proof that a Maybach car was able to face the harsh conditions of snowy mountain roads : The first three places went to Maybach Engine Works. Maybach Cars were products that were produced to the highest standards and therefore also lasted a long time – if correctly taken care of. Indeed, some of the few produced cars remain to this day and lived some very interesting lives.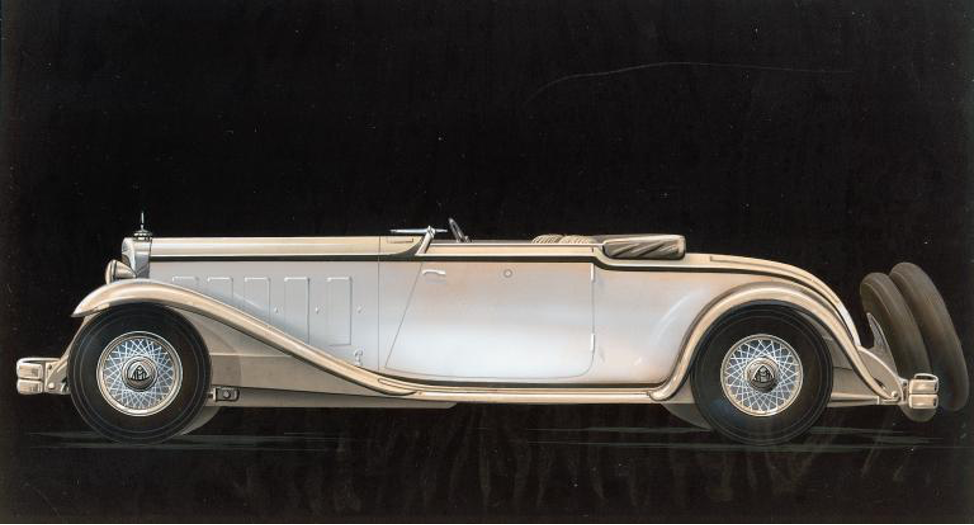 A white Maybach Zeppelin DS 8, which still exists today, is one of the rare examples that was built as a two-​seater cabriolet, what is more, it strikingly resembles the car depicted in the 'Bergbezwinger' advert. The sketch is shown here, which dates roughly from the same time, also is of a car with a very similar layout. This rare vehicle's story tells the global connections of the brand Maybach. The car was commissioned by Gustav Zingg, an immigrant from Germany to Venezuela and a wealthy businessman. Among his jobs also was to be Maybach sales representative in Southern America because he had personal ties with Karl Maybach. Originally delivered as the first twelve-​cylinder model, the Maybach 12, it, later on, was retrofitted with the last iteration of the twelve-​cylinder car engines, the DS 8, which also might have included the installation of another radiator grill. After delivery, the car supposedly also made the journey across the Atlantic several times as Zingg traveled back to Germany. For some decades the car was neglected as termites had damaged it. Helmut Hofmann, the probably most important Maybach car collector however managed to track it down and made the purchase. The car's last journey back to Europe across the ocean turned out to be devastating – seawater partially flooded the container and caused further damage to this very valuable car. Having already seen worse the collector kept his spirit up and the car is now exhibited and restored to all its glory. Today it can be seen in the Museum for Historical Maybach Vehicles (the only one solely dedicated to these stunning vehicles) in Neumarkt, Germany.
There are several books available on Maybach Cars though one especially stands out. Graf Michael Wolff Metternich's 'Maybach Register' has become a standard source because it records many of the exciting stories the cars lived through after delivery. On the 13th of February 1967, Count Metternich became the founding president of the Maybach Club, an association of Maybach car enthusiasts and owners. Metternich tirelessly recorded the available information of cars that were still existent back then, becoming one of the leading experts. In 1996 he published the third and last version of his important historical research.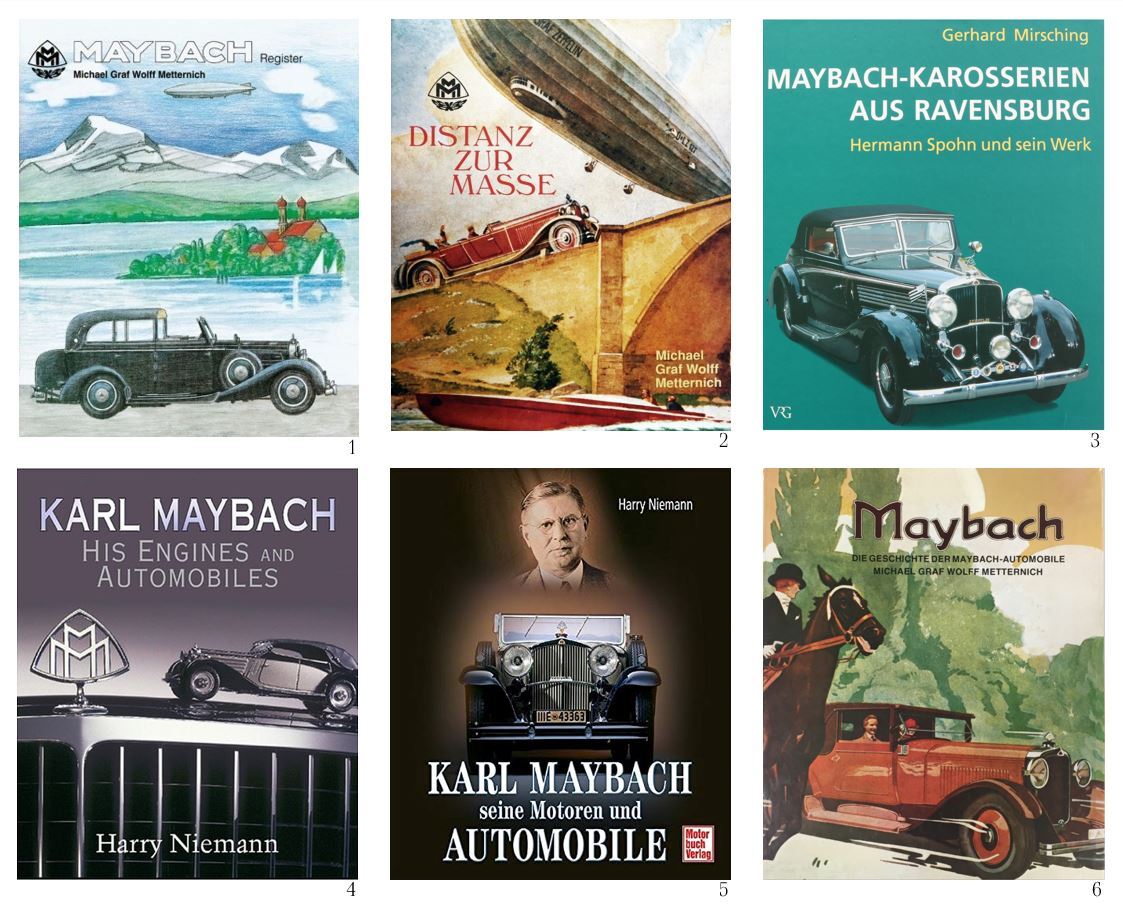 Count Michael Wolff Metternich who was born in 1920 and had become known as an essential figure in the field of automotive history scholars, passed away in 2018 but his legacy lives on in his books.
In the following, we have collected some literature on the topic of Maybach automobiles. Sadly, only one of these is available in English, Niemann's 'Karl Maybach, his engines and automobiles'.
Graf Wolf Metternich, Michael (1996): Maybach Register, Sieger Verlag GmbH, Lorch.
Graf Wolf Metternich, Michael (1990): Distanz zur Masse, Sieger Verlag GmbH, Lorch.
Mirsching, Gerhard (2001): Maybach-​Karosserien aus Ravensburg, Hermann Spohn und sein Werk, Robert Gessler Verlag, Friedrichshafen.
Niemann, Harry (2006): Karl Maybach, his engines and automobiles, Classique car Library.
Niemann, Harry (2004): Karl Maybach, seine Motoren und Automobile, Motorbuch Verlag, Stuttgart.
Graf Wolf Metternich, Michael (1978): Maybach, Die Geschichte der Maybach-​Automobile, Uhle

&

Kleimann, Lübbecke.
---