Today, we want to share a historical Maybach Powered boat with you, that has an interesting story. Not only that, it recently made its way back to Friedrichshafen where it was made and used for a very specific purpose. Due to the versatility of products and technologies that were needed for the airships which Count Zeppelin had conceptualized, a wide array of companies settled and flourished in Friedrichshafen on Lake Constance in Southern Germany.
Maybach-​Motorenbau-​GmbH, relocated to Friedrichshafen in 1912 as Motorenbau GmbH and from 1918 was then known as Maybach-​Motorenbau-​GmbH. Karl Maybach, the eldest son of Wilhelm Maybach, had led the company in its new directions. With his development of high performance engines over the decades he contributed significantly to the history of mobility — from population for airships that travelled over the Atlantic — to fast running Diesel engines for trains which enabled speeds invoking the nickname « The Flying Trains »
Claude Dornier was another important figure in Friedrichshafen. He was born in 1884 in Kempten, son to his French father who had emigrated to Germany. His mother was German. Claude studied in Munich at the Technical University of Applied Sciences. He graduated in 1907. In the early stages of his career, he performed strength calculations. These endeavors did not foretell his later significant contributions to aviation.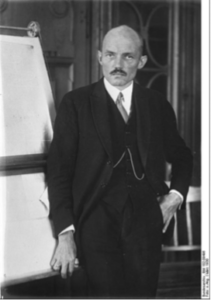 Claude Dornier in a portrait from 1930. Bundesarchiv Bild 102 – 09496, CC BY-​SA 3.0 de
Count Zeppelin had also realized that the long-​term technology to succeed were not airships but aero planes. This led to some unique aircraft being developed in Friedrichshafen, with Dornier leading some groundbreaking projects. From 1910 onwards, Dornier worked for Count Zeppelin. Beginning in the mid nineteen-​tens already ‹Flugboote› (Flying boats) such as the RS I to IV were built. After WWI, large projects of airships with potential military usage were forbidden. To circumvent these new restrictions for a new large project the AG für Dornier-​Flugzeuge (Cooperation for Dornier-​Airplanes) was established-​not in Germany though, but on the Swiss side of Lake Constance in Altenrhein.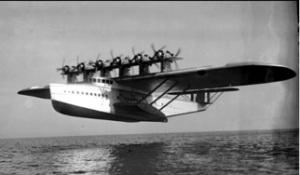 The Do X in flight 1932, Bundesarchiv Bild 102 – 12963, CC BY-​SA 3.0 de
The Do X (Short for Dornier ten) was essentially the project for which this company had been formed. It was the largest, at 56 tons, and using twelve 391 kW (524 hp) Siemens-​built Bristol Jupiter radial engines. It was clearly the most powerful flying boat at the time of its construction. It took fours years to complete. The Claude Dornier began planning in 1924, with production running from 1925 to 1929.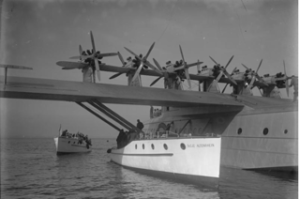 Flying Boat Dornier Do X, Bundesarchiv Bild 102 – 08578, CC BY-​SA 3.0 de
The Altenrhein is a time witness of this high-​tech plane of its day. Altenrhein was one of two boats which were used to tow in the Do X. It had been manufactured nearby Friedrichshafen at Bodan Shipyards in Kressbronn. With Maybach-​Motorenbau-​GmbH being a preeminent producer of engines with global renown, the boat was fitted with a Maybach engine.
It is not entirely clear which engine had been installed in Altenrhein originally, but give the size of the boat and the specs, at 65 horsepower, it most likely was a S 1 engine (As one advertising brochure from the 1920s described it, the S 2, unlike the S 1 was designed for ‹light, especially fast boats, up to nine meters length›) The type S 1 engine and its sibling, the S 2 are examples of the versatility of the products of Karl Maybach. These engines had originally been constructed as the W 2 and were conceptualized for cars. To be more precise, the type W 3 car was first presented by Maybach to the public in 1921. The S 1 and S 2 are marinized versions. The development towards marine applications broadened the Maybach portfolio of engines whereby the well-​known slogan for Maybach was coined : « In Air, In Water and By Land. » This sums up the Maybach range of technology as well as its profound history as one of Germany's premier inventors, developers, and producers.
The historical evidence of the Altenrhein had been lost for quite some time. Very recently it has resurfaced. Thankfully, it did not end up being sold in the marketplace, but was donated to the Dornier Museum in Friedrichshafen. There, it currently is been restored. Remarkably, plans are underway to operate Altenrhein once again on Lake Constance. It is undetermined if the engine will be replaced with the original Maybach type S 1 engine, as this would be a difficult task, inasmuch as the S type engines of the first generation are very rare. The estimate is that only 280 were produced, counting both type S 1 and S 2 engines.
In the Maybach Virtual Museum under https://​maybach​.com/​y​e​a​r​-​d​e​c​a​d​e​/​1​918 – 1933/​you dive deeper to learn about Maybach Powered boats. Just click on the 1927 time marker, « Excellence Across All Elements. »
---
You can also reach us at foundation@​maybach.​org.
We look forward to hearing from you !