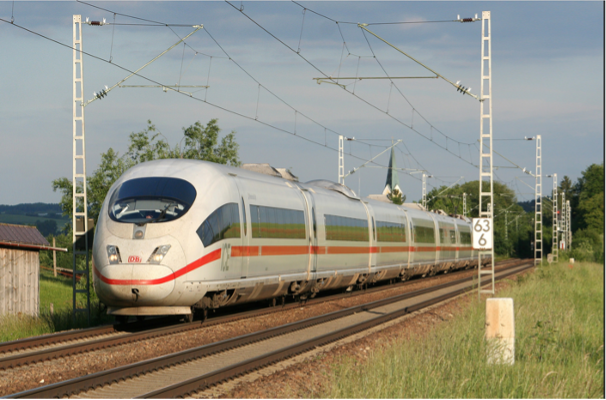 An ICE 3 of Deutsche Bahn AG on the Ingolstadt-​Munich line near Fahlenbach. Photograph : Sebastian Terfloth, CC BY-​SA 2.5
This month we are celebrating the 30th anniversary of the Inter City Express (‹ICE›) Trains in Germany. The concept of these trains was to be able to travel between German cities including connections to neighboring countries, as conveniently and swiftly as possible — « Doppelt so schnell wie das Auto, halb so schnell wie das Flugzeug » twice as fast as a car, half the speed of air travel, as an advertisement slogan of these days aptly framed it. The technology the trains were using definitely was new and innovative, the concept of a train network like that however had been conceptualized, and for some time even realized a lot earlier- and much of it could not have happened without the propulsion technology by Maybach Motor Works.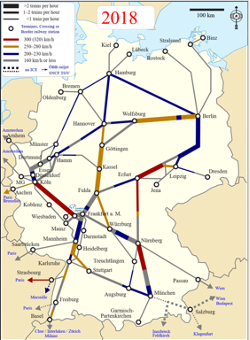 Frequency and maximum permitted speed on the German ICE network (as of December 2017). Image by ‹Classical geographer›, CC BY-​SA 4.0
On June 2nd of 1991, the ICE trains were officially deployed for travel by the DB (Deutsche Bahn, German Federal Railway). It became the starting point for a success story : Until 2021 over 1,5 billion guests were traveling with the ICEs since their original launch.
However, the results from three decades ago had not been possible without another paradigm shift another 50 years earlier — the SVT or ‹Schnelltriebwagen mit Verbrennungsmotor› fast trains with combustion engine, that had not been possible without the contributions of Maybach-​Motorenbau GmbH in conjunction with other leading companies of the time.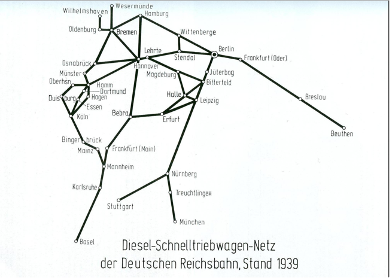 Network of high-​speed railcars in the time until 1939. © Deutsche Bahn Stiftung
The 1930s saw an enormous infrastructure project come to fruition. Its plans had been developed during the Weimar Republic. The aim was to install a rail network with which the capital (Berlin) could be reached from the entire state territory within just one day. For this purpose, more than 30 cities in the German state and border regions were connected to a network for high-​speed railcars, all powered by Maybach engines — except for a minor section from Berlin to Dresden that used streamlined steam engine locomotives.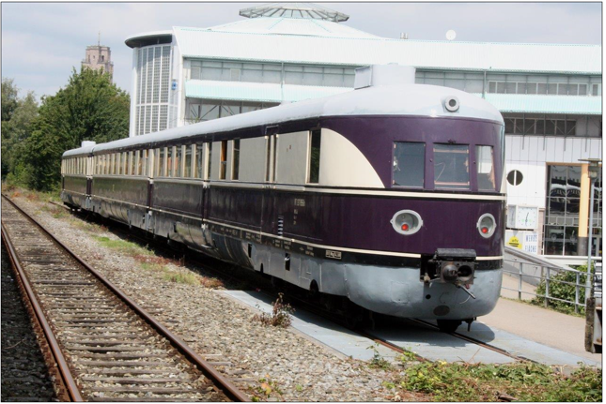 The SVT 137 856 Model Cologne at the Harbor Station in Friedrichshafen, 2011. © Manfred Blumeier
Previously seemingly utopian maximum speeds of 160 km/​h had now become possible with the fast-​running diesel engines that Maybach Motor Works provided and the average cruising speed on most sections was 120 km/​h. The speed at which the railcars could be driven was also higher : One SVT Model Leipzig even reached 205 km/​h on a test drive. A traffic system of this rank existed only in Germany ; other countries only realized partial sections. The impacts of this innovation had an Europe-​wide dimension. and accordingly fast railcars with Diesel engines were soon used in Belgium, Holland, Spain, and France. The propulsions of the Maybach Motor Works had become an export hit.
It goes without saying that National Socialist propaganda instrumentalized the high-​speed railcar network for its own purposes. 1935 offered a highly symbolic opportunity for this, as this year marked the 100th anniversary of the Adler's (‹Eagle's›) journey from Nuremberg to Fürth — the beginning of rail traffic in Germany. The fact that the idea for the rail network originated in democratic times was concealed at the celebrations. In 1938, the rail network of express railcars had a de facto size that it only reached again decades later. The outbreak of the war in 1939 brought an abrupt end to all further expansion plans. From now on the fuel for the express railcars was used exclusively for war purposes.
After WWII Maybach Motor Works in Friedrichshafen continue to cater to the needs of railway companies with their developments. Using knowledge gained from engines for track driven vehicles such as tanks, a new model of engines was developed — the MD series. M is short for Maybach and D is for Diesel/​It was this generation of engines that was used for trains that bought the concept of an effective high speed rail network even further. Starting out in June 1957 after a Dutch initiative, the so-​called TEE (Trans-​Europe-​Express) trains were connecting many of Europe's prospering cities, the different countries however still relying on different models of trains. For this network Germany especially developed the class VT 11.5. Maybach Motor Works was an essential company to supply both the engines and gear drives — but this interesting vehicle and its Franz Kruckenberg designed predecessor DR 137 155 is a subject of its own we will soon be covering in more depth.