The object we are presenting today is an interesting photograph. But is a photograph an object you may ask ? Isn't it just flat and therefore just considered a document ? By looking more closely we want to answer these questions in this blog post proudly presented from our Friedrichshafen office in Germany.
The image on today's collection item is from the maiden voyage of the 'Fliegender Hamburger' (Flying Hamburger – its name was derived from its route Berlin to Hamburg). This was the breakthrough in Karl Maybach's endeavors to build fast running propulsion systems for trains. After test runs in which the train managed to reach speeds of 160 km/​h, the train was now running in everyday train traffic for the first time. Obviously, this was a big event at the time, given the futuristic nature of the train against the backdrop of the early 1930s where steam locomotives were still the standard. Being a unique prototype, the Flying Hamburger was solitary. But not much later a whole generation of trains, the SVT were used in Germany and deconstructed earlier concepts of what was possible – now you were able to travel from any major city in Germany to Berlin — within a day !
The photograph we are looking at today is a so-​called press print. The latter is from an era in which analog material was still very important. These work prints were distributed by press agencies and were the base for newspaper layouts. The back in most cases has a clipping of a text, many times a presupposed text that was distributed by the press agencies – later oftentimes the newspaper agency, which used the image in an article, added its own text too.
As this material dates back to the analog days, retouching and cropping were still done manually by hand. In many cases, this leads to interesting materiality. Masking the background was done by applying a thick layer of gouache paint (a water-​based kind that produces a very matte finish) on top of the photographic paper. In our example here one can see that a small fraction of the image had been retouched, here in the front of the train, as shown in our enlargement below. A man is shown here standing in the original photograph. Photography thereby was subject to adjustments long before the arrival of photoshop. Given all the layers of information and the traces of usage, it becomes clear that such a photograph is just as much an object as it is a document.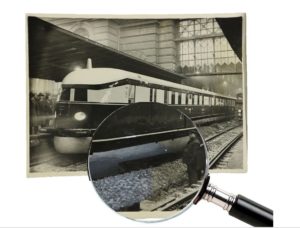 But what happened to the Fliegender Hamburger — did it survive to this day ? After WW II, the Flying Hamburger was still used in everyday traffic for quite some time. In the 1950s it was taken out of service. Though its meaning for the history of trains and even mobility, in general, was clear, only a part of it was preserved. Two-​thirds of one half can today be seen painted in its original color combination (ivory and purple – two colors signifying luxury) in the 'Bahnmuseum Nürnberg' (train museum Nuremberg, Germany). Suitably it is attached to an 'ICE train' (short for 'Inter-​City Express'), a generation of high-​speed trains, which still runs in Germany today – the two side by side make clear that the Fliegender Hamburger was the forefather for today's high-​speed trains.