🇩🇪 German Version below / 🇩🇪 Deutsche Version unterhalb des englischen Texts
---
---
Today there are two important anniversaries for Maybach fans to celebrate, the 141st birthday of Karl Maybach and the 5th anniversary of the Freundeskreis Maybach Museum e.V.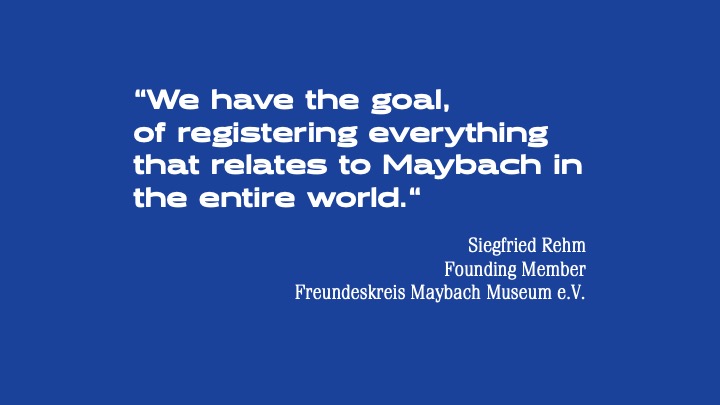 The initiative for the formation of the association came from many of the ‹Häfler› (as the inhabitants of Friedrichshafen are popularly known) and the descendants of Karl Maybach — his daughter Irmgard Schmid-​Maybach and his grandson Ulrich Schmid-​Maybach. From the very beginning, the close cooperation between the Wilhelm and Karl Maybach Foundation, founded by Ulrich Schmid-​Maybach, and the Museum Freundeskreis was a given and is still successfully continued with great energy today. Employees of Maybach-​Motorenbau, but also important people from Friedrichshafen's political scene — they all share the enthusiasm for the special Maybach history and the aim of creating a permanent museum presentation.
Since its foundation on July 6, 2015, the Freundeskreis has been working on a purely voluntary and extremely committed basis towards the goal of creating a museum-​based, independent presentation of the history of Wilhelm and Karl Maybach and their developments essential to the history of technology and mobility. Friedrichshafen is and will remain the anchor point for these efforts due to its close connection with Maybach history. A fundamental element of this is the ongoing development of the collection, which also includes contemporary witness work — to date, over 2000 documents, photographs, and objects have been collected. In 2017 the first exhibition entitled « In the air, on water and on land » was held at the Friedrichshafen City Archive, which was very well received.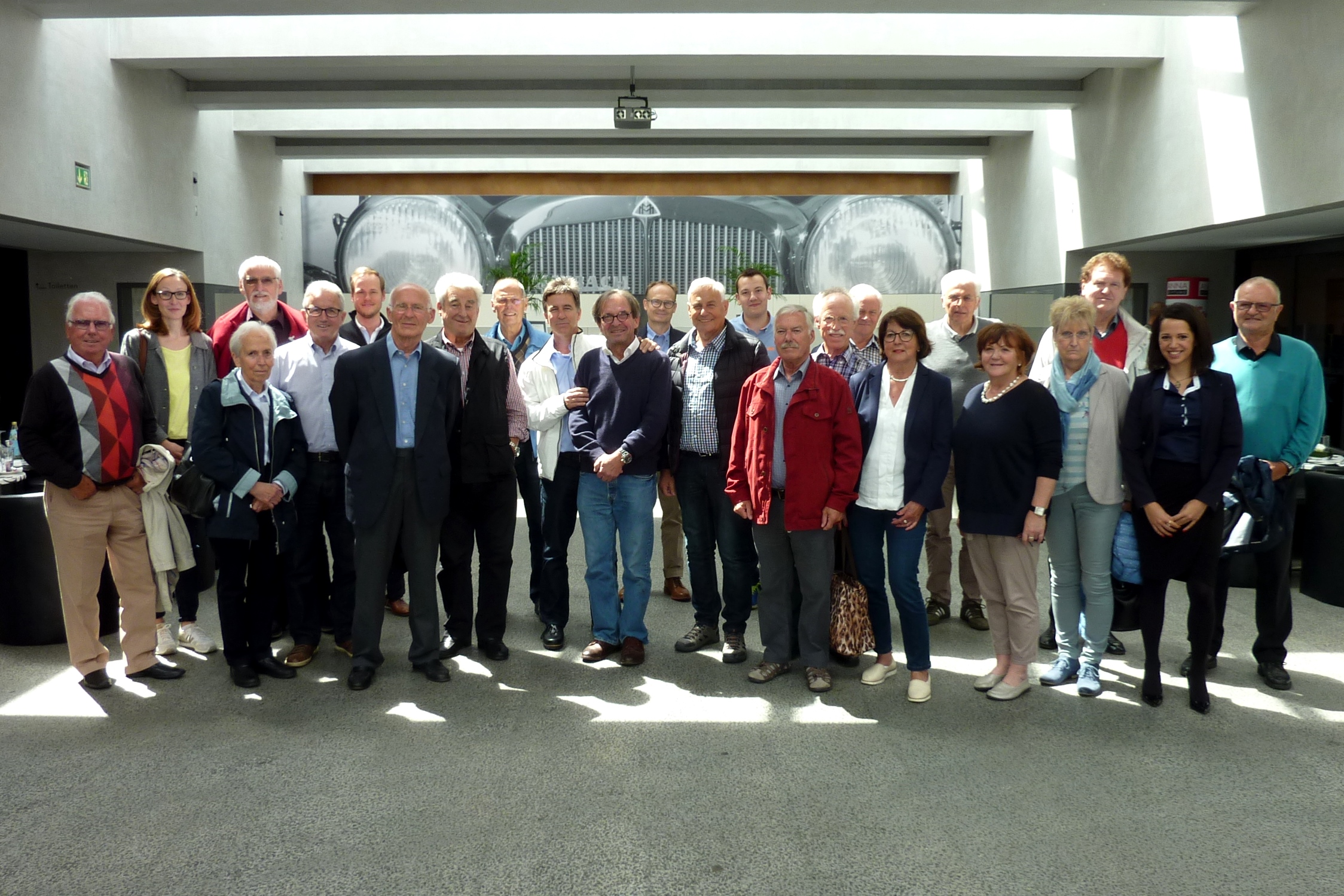 The founding date of the circle of friends was not by chance, 2015 was the 136th anniversary of Karl Maybach's birthday. Karl Maybach, the son of Wilhelm Maybach, who was also known as the King of Designers, was born in 1879 in Cologne Deutz. He understood early on how to get the most out of his studies, internships, and various travels abroad. Thus he had already developed an engine of his own when his father was not allowed to work as he had left Daimler engine works. Graf Zeppelin, who had found the best conditions for his airship developments in Friedrichshafen on Lake Constance, was very interested in the new engine design, which was both powerful and reliable. It was only in this way that the Maybachs and Count Zeppelin began to work together, and in 1912 the company finally moved to Friedrichshafen, before being renamed Maybach Motorenbau GmbH in 1919. Friedrichshafen became the new cradle of engine development. Starting with airship engines, various developments were initiated here which still have a significant impact on our mobility today. Particularly noteworthy are the high-​speed diesel engines, a completely new market segment at the time, which were to take trains in Germany and internationally to a new level in terms of speed and reliability.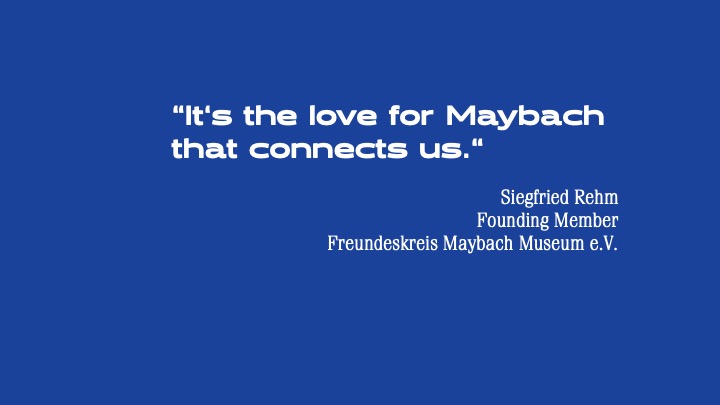 Over the years, Karl Maybach established a company that set standards in the training of apprentices and skilled workers as well as preparing them for corporate cultures. In this way, the bond between employees, but also between Friedrichshafen residents, and the Maybach name was strengthened and remains strong to this day. This bond is reflected in the valuable voluntary work of the Freundeskreis Maybach Museum e.V. — starting with the founding members such as Sigfrid Rehm, who met Karl Maybach personally while still working at Maybach Motorenbau, through to the current first chairman Fritz Rheinheimer and the numerous members.
The first five years of the Circle of Friends› work have been extremely successful. Many important exhibits have now been secured for the museum. A special example is the cutaway model of an MD 871 ship diesel for fast boats, which was transported from the Technical Naval School in Parow near Stralsund to Lake Constance under the leadership of the first chairman Fritz Rheinheimer. More exciting details about the project to save this large exhibit from being scrapped can be found on the website of the Freundeskreis. There you will also find further information on membership.
---
---
🇩🇪 German Version /​Deutsche Version :
Aus Verbundenheit zu Maybach — 5 Jahre Freundeskreis Maybach Museum e.V.
Heute gilt es gleich zwei für Maybach-​Fans wichtige Jubiläen zu feiern ; den 141. Geburtstag von Karl Maybach sowie das fünfjährige Jubiläum des Freundeskreises Maybach Museum e.V.!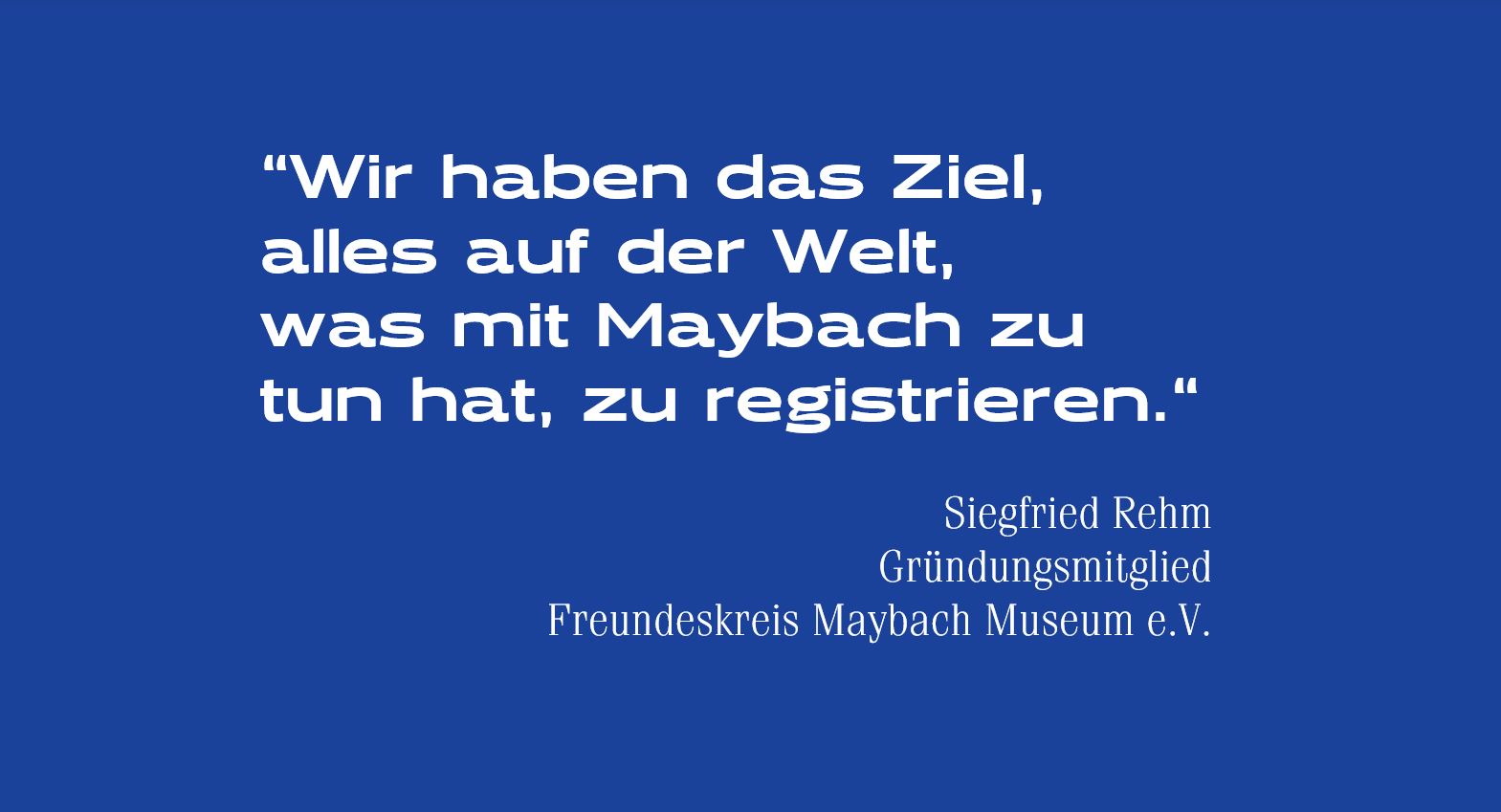 Die Initiative zur Gründung des Vereins, ging aus von vielen mit der Maybach Historie verbundenen Häflern (wie die Bewohner*innen Friedrichshafens im Volksmund genannt werden) und den Nachfahren Karl Maybachs – seiner Tochter Irmgard Schmid-​Maybach und seinem Enkelsohn Ulrich Schmid-​Maybach. Von Beginn an war die enge Zusammenarbeit zwischen der von Ulrich Schmid-​Maybach gegründeten Wilhelm und Karl Maybach Stiftung und dem Museums Freundeskreis selbstverständlich und wird bis heute mit großer Tatkraft erfolgreich fortgesetzt. Mitarbeiter*innen des Maybach-​Motorenbau, aber auch verdiente Persönlichkeiten aus der Gesellschaft und Politik Friedrichshafens – sie alle eint die Begeisterung für die besondere Maybach-​Geschichte und das Ziel einen bleibenden musealen Auftritt zu schaffen.
Der Freundeskreis arbeitet seit seiner Gründung am 06. Juli 2015 rein ehrenamtlich und äußerst engagiert auf das Ziel hin, der Geschichte von Wilhelm und Karl Maybach sowie ihren für die Technik- und Mobilitätsgeschichte essentiellen Entwicklungen einen musealen, eigenständigen Auftritt zu verschaffen. Friedrichshafen ist und bleibt dabei Ankerpunkt für diese Bemühungen durch die enge Verbindung mit der Maybach-​Historie. Elementar dafür ist der fortlaufende Sammlungsaufbau, welcher auch Zeitzeugenarbeit umfasst – bis heute wurden über 2000 Dokumente, Fotografien und Objekte zusammengetragen. 2017 fand eine erste eigene Ausstellung mit dem Titel "In der Luft, zu Wasser und zu Land" im Stadtarchiv Friedrichshafen statt, welche auf sehr positive Resonanz gestoßen ist.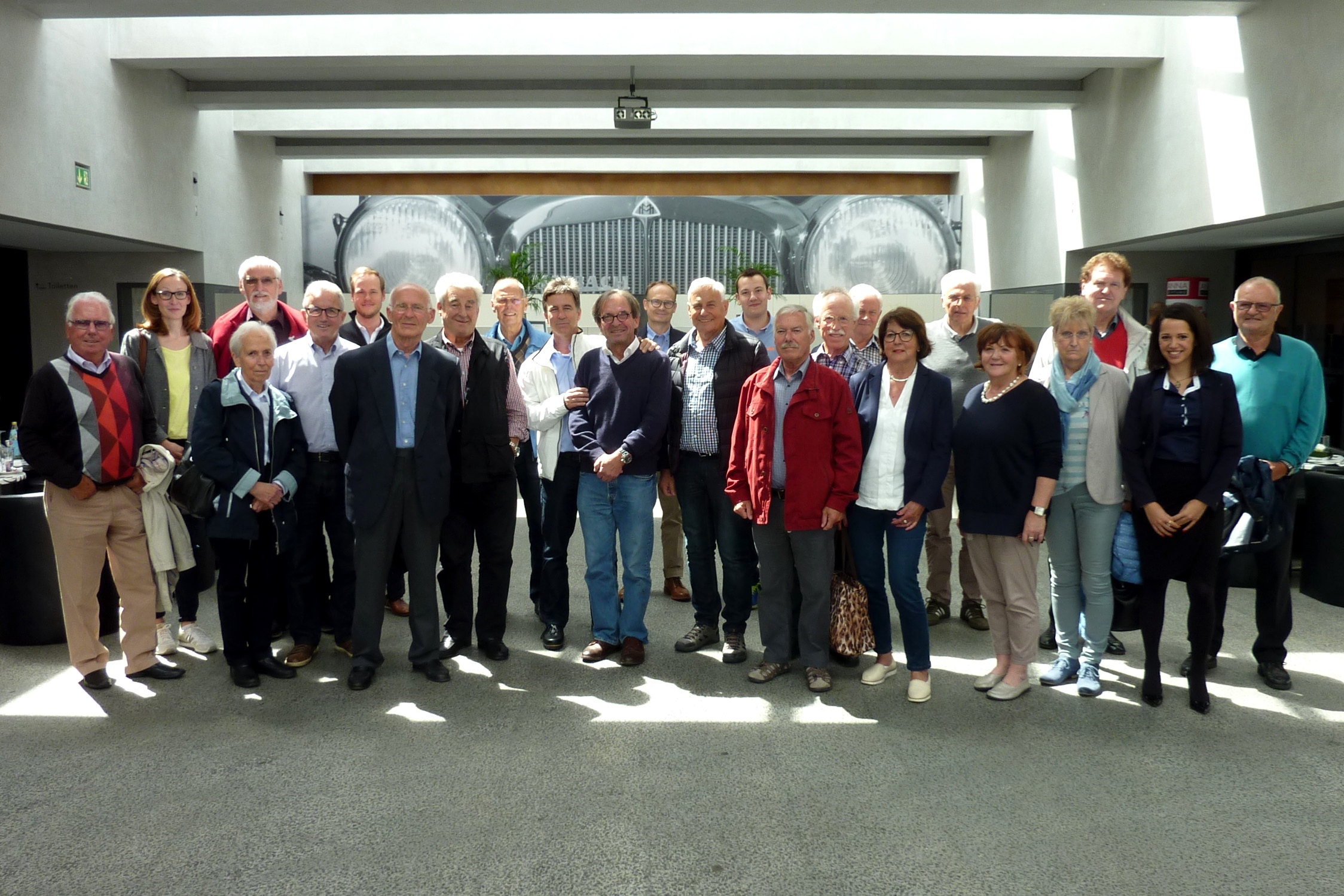 Das Gründungsdatum des Freundeskreises kam nicht von ungefähr, 2015 jährte sich der Geburtstag von Karl Maybach zum 136. Mal. Karl Maybach, der Sohn von Wilhelm Maybach, welchen man auch als König der Konstrukteure bezeichnete, wurde das Handwerk des Konstruierens und der Ingenieursgeist scheinbar in die Wiege gelegt, als er 1879 in Köln Deutz geboren wurde. Er verstand es früh, aus Studium, Praktika und diversen Auslandsaufenthalten das meiste herauszuholen. So konnte er mit einer eigenständigen Motorenentwicklung aufwarten, als sein Vater gerade mit einem Berufsverbot nach dem Ausscheiden aus dem Daimlerkonzern belegt war. Graf Zeppelin, welcher in Friedrichshafen am Bodensee die besten Bedingungen für seine Luftschiffentwicklungen gefunden hatte, war sehr interessiert an dem neuen, gleichermaßen leistungsfähigen wie zuverlässigen Motorenentwurf. So kam es erst zur Zusammenarbeit zwischen den Maybachs und Graf Zeppelin, 1912 zum Umzug des Unternehmens nach Friedrichshafen und 1919 erfolgte schließlich die Umbenennung in Maybach Motorenbau GmbH. Friedrichshafen wurde zur neuen Wiege der Motorenentwicklung. Angefangen bei Luftschiffmotoren wurden hier diverse Entwicklungen angestoßen, welche bis heute maßgebliche Auswirkungen auf unsere Mobilität haben – besonders hervorzuheben sind die schnelllaufenden Dieselmotoren, ein zur damaligen Zeit völlig neues Marktsegment, sollten Züge in Deutschland und international auf ein neues Niveau bringen, was Geschwindigkeit und Verlässlichkeit anging.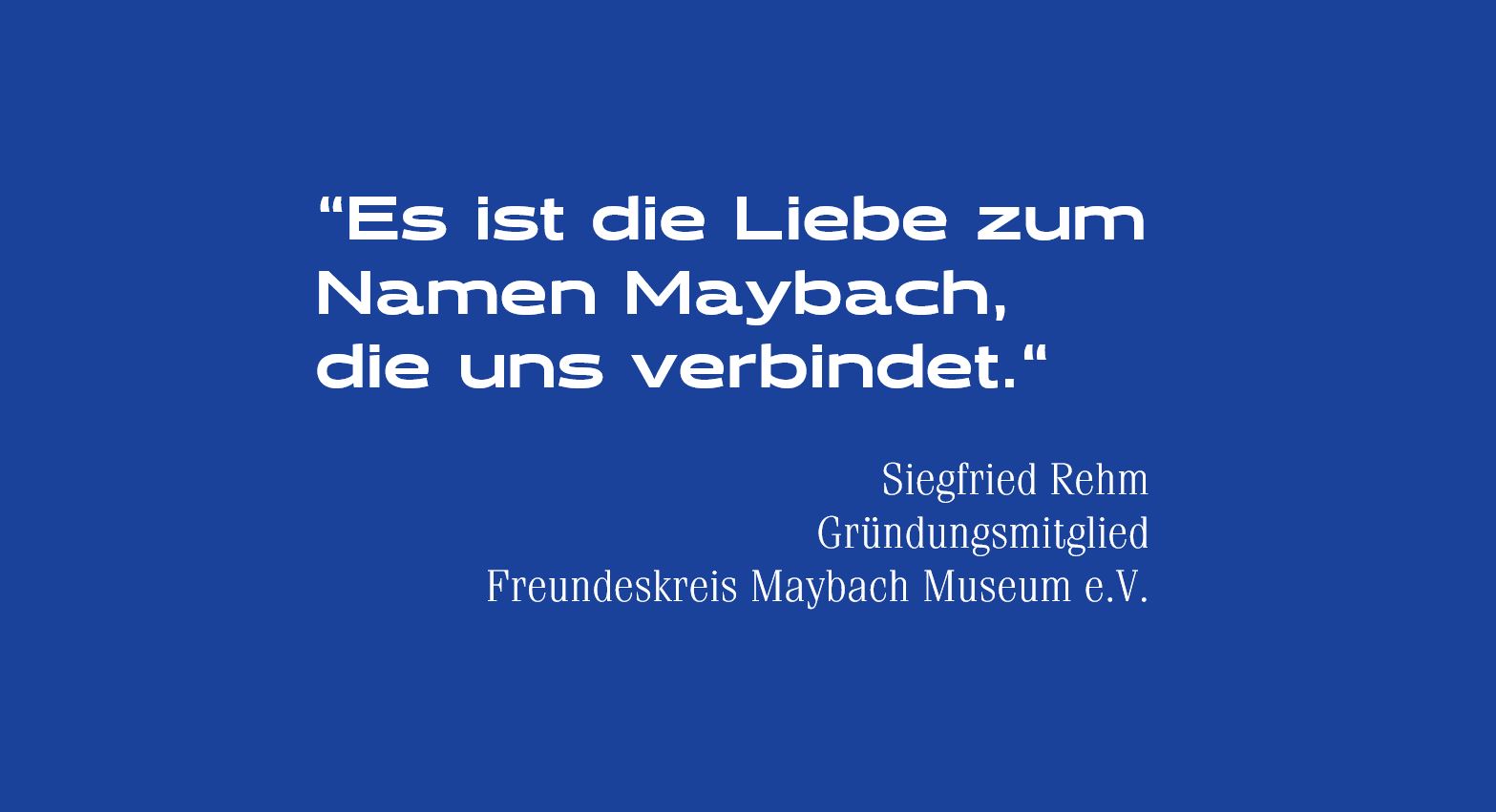 Karl Maybach etablierte über die Jahre ein Unternehmen, dass Maßstäbe setzte in der Ausbildung von Lehrlingen und Facharbeitern sowie der Unternehmenskultur. So festigte sich die Verbindung zwischen Mitarbeitern, aber auch den Häflern insgesamt, und dem Namen Maybach, welche bis heute anhält. Diese Bindung spiegelt sich in der wertvollen ehrenamtlichen Arbeit des Freundeskreises Maybach Museum e.V. – angefangen bei den Gründungsmitgliedern wie Sigfrid Rehm, welcher Karl Maybach noch persönlich während seiner Tätigkeit beim Maybach Motorenbau begegnete, bis hin zum aktuellen ersten Vorsitzenden, Fritz Rheinheimer, und den zahlreichen Mitgliedern.
Die ersten fünf Jahre der Arbeit des Freundeskreises sind in höchstem Maße erfolgreich verlaufen. So konnten viele wichtige Exponate für das Museum gesichert werden. Ein besonderes Beispiel ist das Schnittmodell eines MD 871 Schiffsdiesels für Schnelle Boote, welches unter Federführung des ersten Vorsitzenden, Fritz Rheinheimer, von der Technischen Marine Schule in Parow bei Stralsund bis an den Bodensee transportiert wurde. Mehr spannende Details über das Projekt dieses große Ausstellungsstück vor der Verschrottung zu retten, finden Sie auf der Webseite des Freundeskreises. Dort gibt es auch weiterführende Informationen zur Mitgliedschaft.