About our Mentoring history
&

work :

At the Maybach Foundation, we focus on a dual-​mission approach : Honoring the history of the ingenious designers Wilhelm and Karl Maybach, while developing mentoring projects designed to build bridges from the past into the future so that new inspirations and innovations can emerge. The Maybach legacy is a testament to the power of mentoring. Our powerful Mantra and Vision is 'Your best future is helping someone else find theirs.': We believe in the power of mentoring and offer programs that mentor talented individuals to inspire innovation.

Wilhelm and Karl Maybach were pioneers, entrepreneurs, and revolutionaries, whose work forever disrupted power and mobility as it was known. Let their history inspire our future.

As the world continues to need Mentors – probably now more than ever due to the current challenges — this provides a comprehensive and effective method and opportunity to identify and 'discover' Mentors, especially those who are not even aware of their potential.
«

With this collaboration, we create an innovative, scientific tool to unlock people's Mentoring potential, which might result in the discovery of the next innovative mind that makes this planet a better one. » — Ulrich Schmid-Maybach
---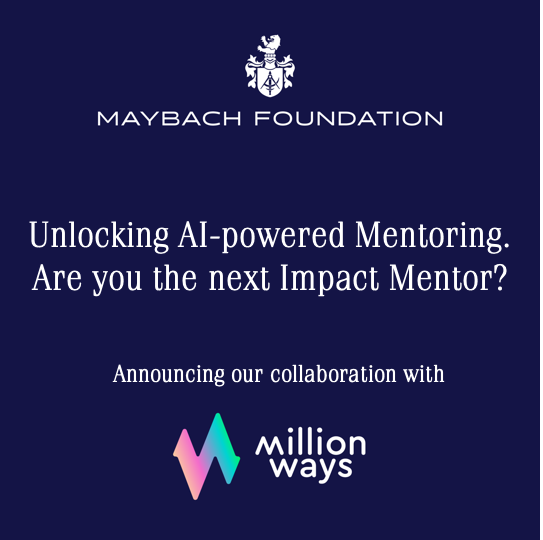 ---
About our Collaboration :
Our collaboration focuses on creating synergies between Millionways‹ technology & purpose and our expertise in the field of mentoring.
We're in the midst of rolling out « Phase 1 » of our pilot project, which is centered around training the Millionways AI to identify potential mentors amongst our customer bases. We're extremely excited about this partnership and can't wait to share results, updates, and next steps !
---
About our new partners, Millionways :
Millionways is a Hamburg, Germany-​based Artificial Intelligence (AI) company, founded by a true visionary which is building an empathetic AI ecosystem to create purpose-​driven connections based on individual circumstances and serves the basic human need for a meaning of life. Most people don´t use their potential because they don't have access to their strengths and goals. This results in a negative impact on personal well-​being and social stability as well as for team building and companies.
Millionways is changing that with a powerful leading AI technology based on spoken and written words — in almost any language of the world. Based on this, it creates a precise and scientifically validated personality analysis, uncovering deep knowledge about the participant, making it one of the first companies discovering the intrinsic and often unaware potential of individuals and providing purpose-​driven connections to actionable impulses and experiences.
---
Excited about joining us for Phase 2 ? Or do you have any questions/​comments about this project ? Reach out to mentoring@​maybach.​org !
#AIPoweredMentoring #UnlockingMentoringPotential