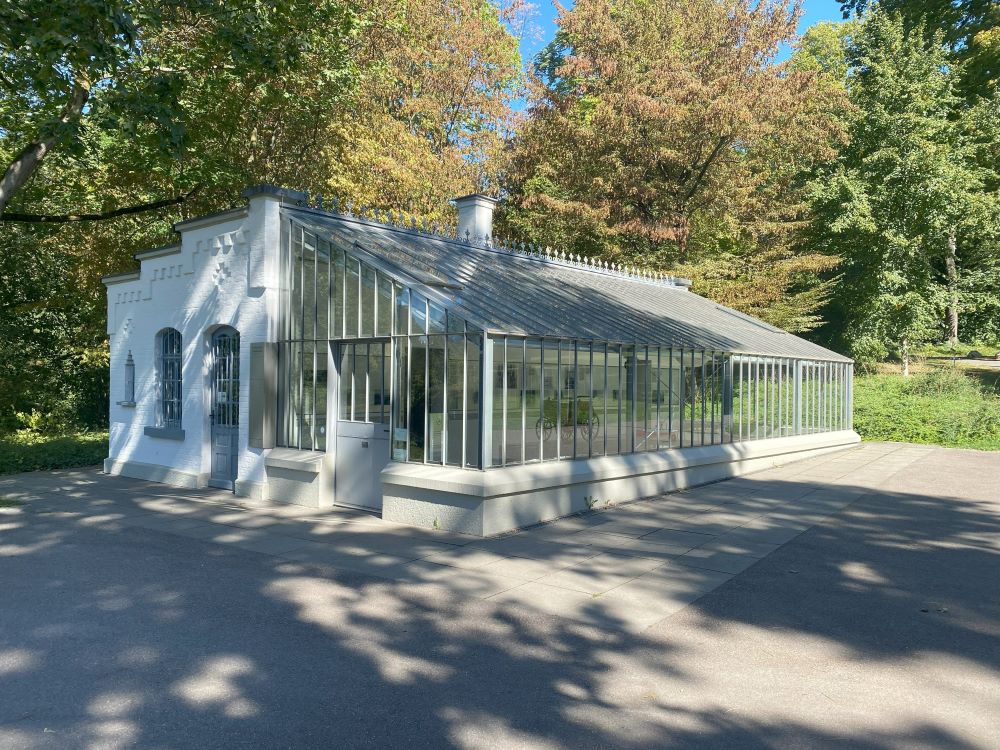 Our exhibition team in Friedrichshafen, Germany regularly embarks on excursions
to the historical sites associated with the history of Wilhelm and Karl Maybach. In
late summer 2023, the visit to the renowned « Daimler Greenhouse » in Bad
Cannstatt, Stuttgart, was on the agenda. This is the experimental workshop of
Wilhelm Maybach and Gottlieb Daimler, leaves visitors with the impression that the
two engineers had just closed the door behind them ! The garden house remains
largely in its original condition, exuding a unique fascination for automotive and
mobility enthusiasts worldwide. It is undoubtedly a magical and inspirational place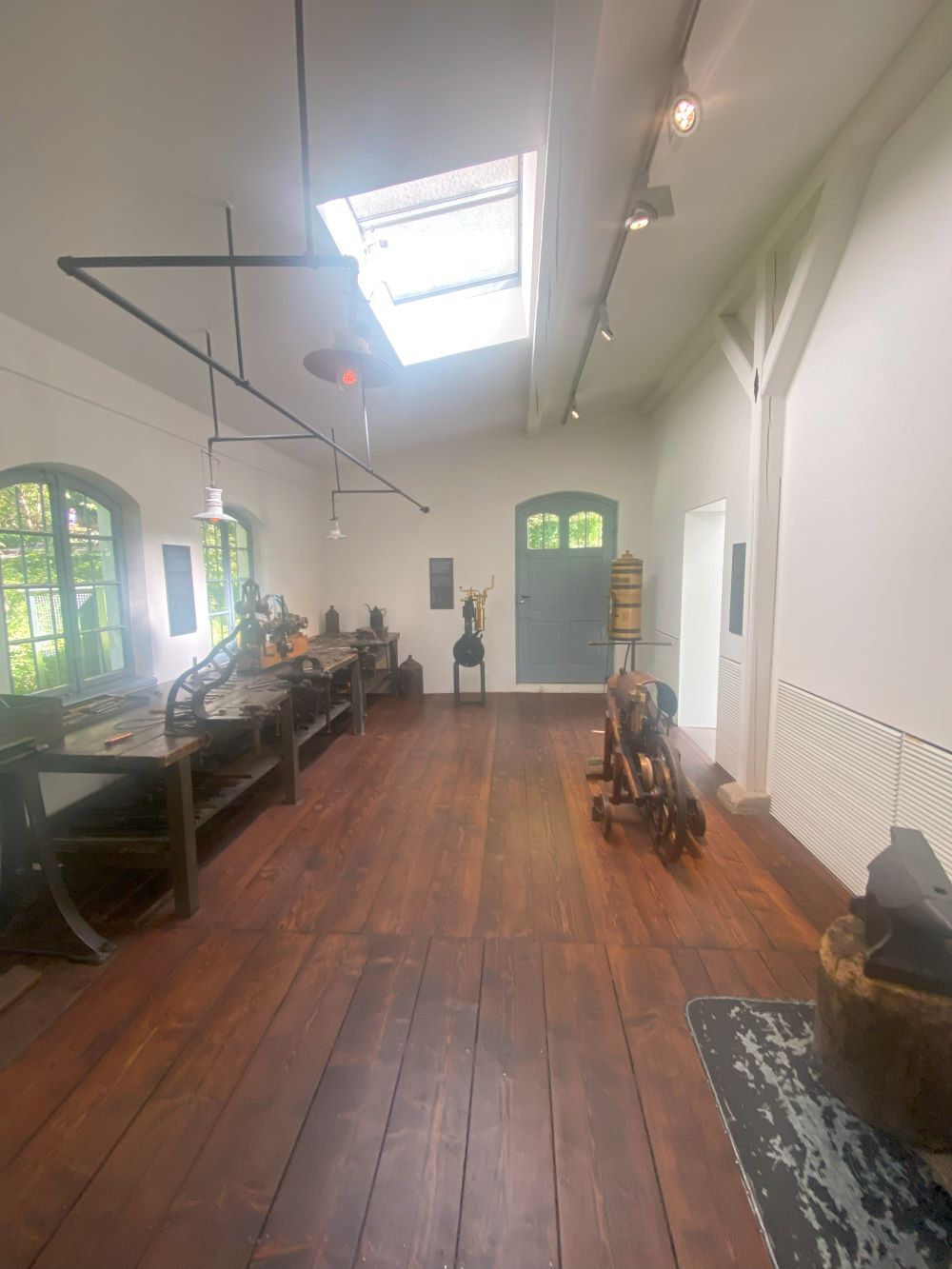 for true Maybach enthusiasts. Working as Gottlieb Daimler's chief constructor at the Deutz gas engine factory in Cologne, Germany, Wilhelm Maybach contributed to the international success of the Otto engine by redesigning it in 1873. In 1882, Gottlieb Daimler and Wilhelm Maybach left Cologne and settled in Bad Cannstatt (near Stuttgart). Gottlieb Daimler purchased a villa at the Taubenheimstraße with a spacious parkland on the outskirts of the Cannstatter Kurpark. The property already had a small greenhouse
on it. Shortly after acquiring the villa, Gottlieb Daimler had a substantial brick extension added to the small greenhouse (see photo). The goal was to establish an experimental workshop in the now-​expanded greenhouse. To protect their developments, which they pursued in collaboration with his partner Wilhelm Maybach, from prying eyes and the gaze of competitors, the windows were darkened. The room with a workbench, lathe, and forge became Wilhelm Maybach's refuge. Here, Maybach aimed to bring his vision of a lightweight universal engine for vehicles on water, land, and in the air to life. Maybach and Daimler worked day and night under the strictest secrecy. Even their own families were unaware of what was happening in the garden house. Daimler's suspicious gardener even called the police, believing that a counterfeit money workshop was located in the garden house. The surprise was immense when the police discovered only tools and engine parts.
In the greenhouse of the Daimler villa, Wilhelm Maybach diligently worked on a
lightweight, high-​speed gasoline engine that could be installed in vehicles, unlike
the engines of the time. By 1883, the first experimental engine was running,
powered by illuminating gas, and it also featured the newly developed glow plug
ignition system. As a result of this initial period of innovation, Wilhelm Maybach
developed an air-​cooled, 0.5 horsepower engine by 1885, which was affectionately
nicknamed the « Standuhr » or « grandfather clock » due to its distinctive shape. The
"Standuhr" engine, designed for use in vehicles, could be easily integrated into
various vehicles. The first of these was a reinforced bicycle frame in 1885, creating
the world's first motorized vehicle, the « Petrol-​Reitwagen,» essentially an early
motorcycle. Subsequent creations included a motorized boat in 1886, which made
waves on the Neckar River, and a motorized carriage. Even an airship was
powered by the "Standuhr" engine. To maintain secrecy during test drives, Daimler
had the pathways on his property expanded. Thus, the development of modern
individual transportation unfolded on this property in Bad Cannstatt — an incredible
story.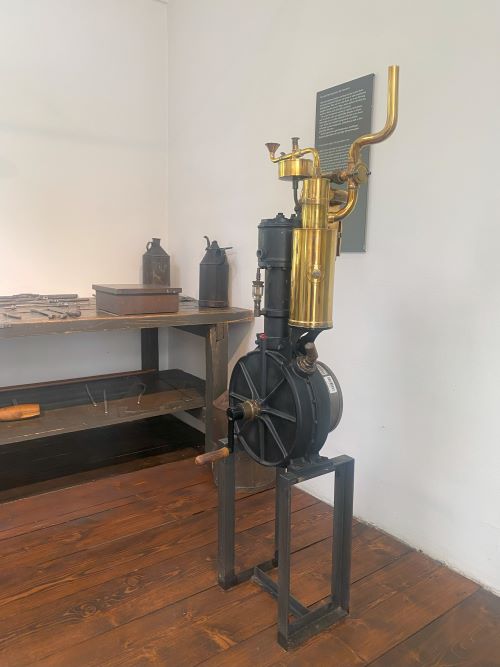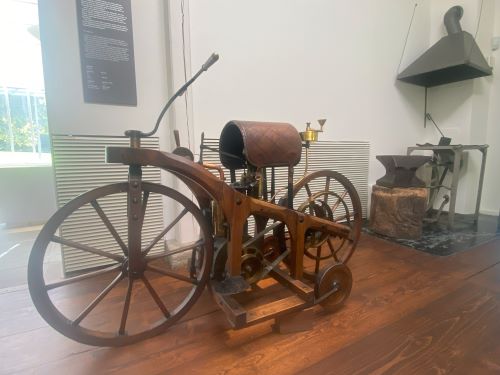 « Standuhr » and « Petrol-​Reitwagen » in the experimental workshop of Wilhelm Maybach and
Gottlieb Daimler in Bad Cannstatt. Photo : Tobias Erne (Wilhelm und Karl Maybach Stiftung).

In July 1887, Daimler and Maybach moved to a small factory on Seelberg in
Cannstatt, which offered more space for their work. In November 1890, the Daimler
Motoren Gesellschaft AG (DMG) was founded, but Wilhelm Maybach left the
company in February 1891.
Today, in the greenhouse with its extension, a small museum commemorates the
early collaborative period of Gottlieb Daimler and Wilhelm Maybach. The
workbench, tools, and lighting all recreate the workshop atmosphere as it must
have been over 140 years ago. With great attention to detail, this memorial site has
been set up as a small museum. It features models of the motorship developed by
Maybach, the « Wolfert's Airship,» the motorized carriage described above, as well
as two scale models of the « Standuhr » and the "Reitwgaen ». Additionally, there are
busts of the famous automotive pioneers Gottlieb Daimler and Wilhelm Maybach.
Visitors with an interest in history can also delve into a chronicle to learn more
about the life stages and family of Gottfried Daimler. Gottlieb Daimler's villa was
converted into a sanatorium by the city of Stuttgart in 1936 and was destroyed
during an air raid in 1944. Today, only the foundation walls remain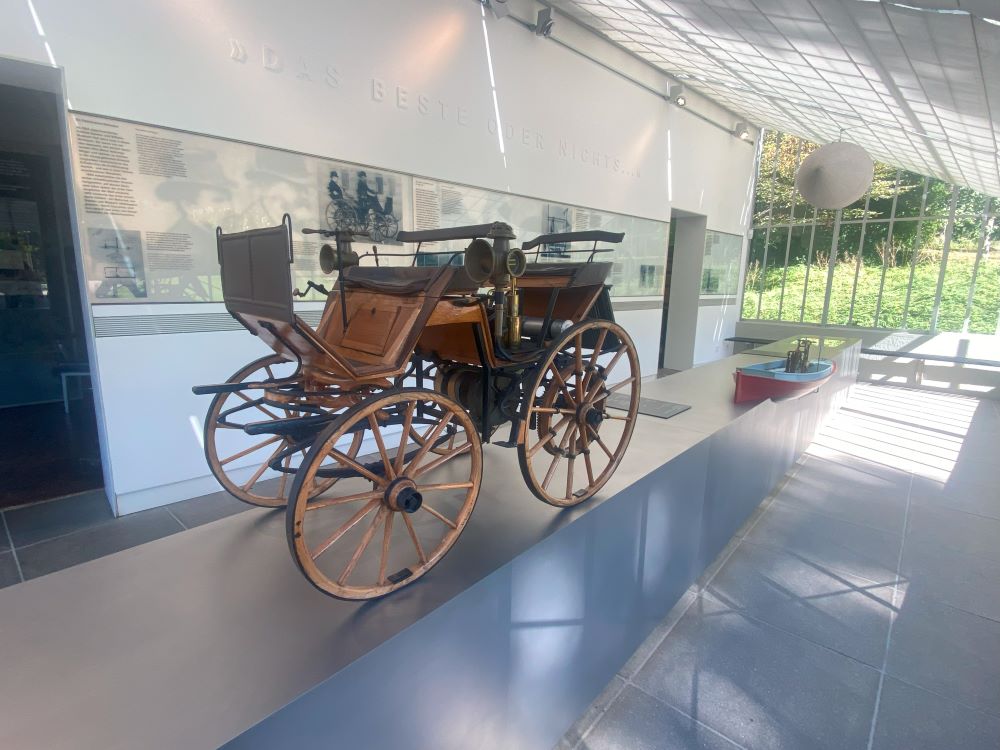 Near the former greenhouse, on the edge of the Kurpark, you can still find some
remnants of the former Daimler Villa along Taubenheimstraße. On a gentle hill in
the park, just above the greenhouse, you'll find the so-​called « Wandelhalle » and the
« Daimler Tower. » The tower appears somewhat out of place in its location atop the
park, perhaps due in part to its relatively rough façade made of travertine stone,
which contrasts with the smooth plastered finish of other buildings in the Kurpark.
The reasons for the tower's construction are not fully known, but it is documented
that Daimler used it to host gatherings for friends, where they would celebrate and
sing. Additionally, Daimler also used the tower as a place for contemplation. In the
1930s, the tower was raised to its current height of around 15 meters. From its
platform, visitors were treated to a beautiful view of the nearby "Uff-​Kirchhof"
Cemetery, where both Wilhelm Maybach and Gottlieb Daimler found their final
resting places, as well as the Mercedes-​Benz Arena and the Rotenberg.
Unfortunately, for safety reasons, the tower has not been accessible to the public in
recent years. However, it is occasionally opened to visitors on the « Open Monument
Day. » We highly recommend a visit to this picturesque area and the greenhouse in
Bad Cannstatt to our Maybach community. Admission is free.
Opening Hours :
Tuesday — Friday : 1:00 PM — 5:00 PM
Saturday — Sunday, Holidays : 11:00 AM -
5:00 PM
Closed on Mondays
Location & Contact :
Gottlieb Daimler Memorial Site
Taubenheimstraße 13
70372 Stuttgar
---
Deutsche Version
Gedächtnisstätte und Museum Gottlieb Daimler und Wilhelm Maybach "Gewächshaus" in Bad Cannstatt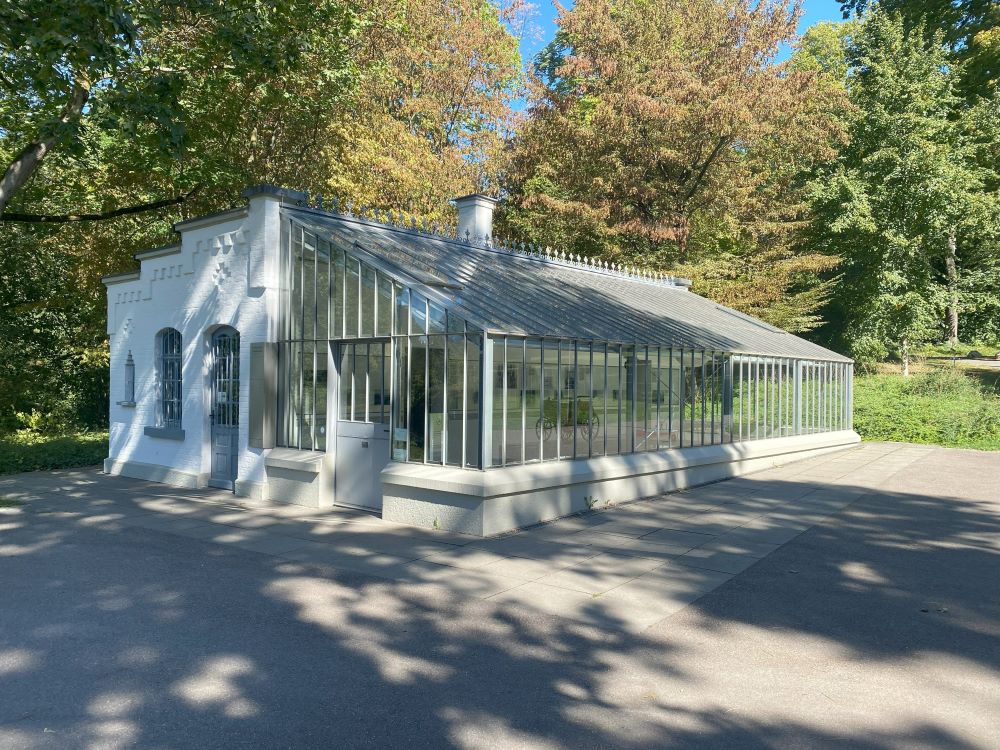 Unser Ausstellungs-​Team in Friedrichshafen unternimmt regelmäßig Exkursionen
zu den historischen Schauplätzen der Geschichte von Wilhelm und Karl Maybach.
Im Spätsommer 2023 stand der Besuch des bekannten "Daimler Gewächshaus" in
Bad Cannstatt (Stuttgart) an. Hierbei handelt es sich um die Versuchswerkstatt von
Wilhelm Maybach und Gottlieb Daimler, die auf den Besucher so wirkt, als hätten
die beiden Ingenieure gerade eben erst die Türe hinter sich geschlossen. Das
Gartenhaus erstrahlt noch heute größtenteils im Originalzustand und übt deshalb
eine ganz besondere Anziehungskraft auf Automobil- und Mobilitätsenthusiasten
weltweit aus. Es ist zweifellos ein besonderer und inspirierender Ort für alle, die
sich für Maybach interessieren.
Als Chefkonstrukteur von Gottlieb Daimler in der Gasmotorenfabrik Deutz in Köln
trug Wilhelm Maybach 1873 mit der Neukonstruktion des Ottomotors zum
internationalen Erfolg bei.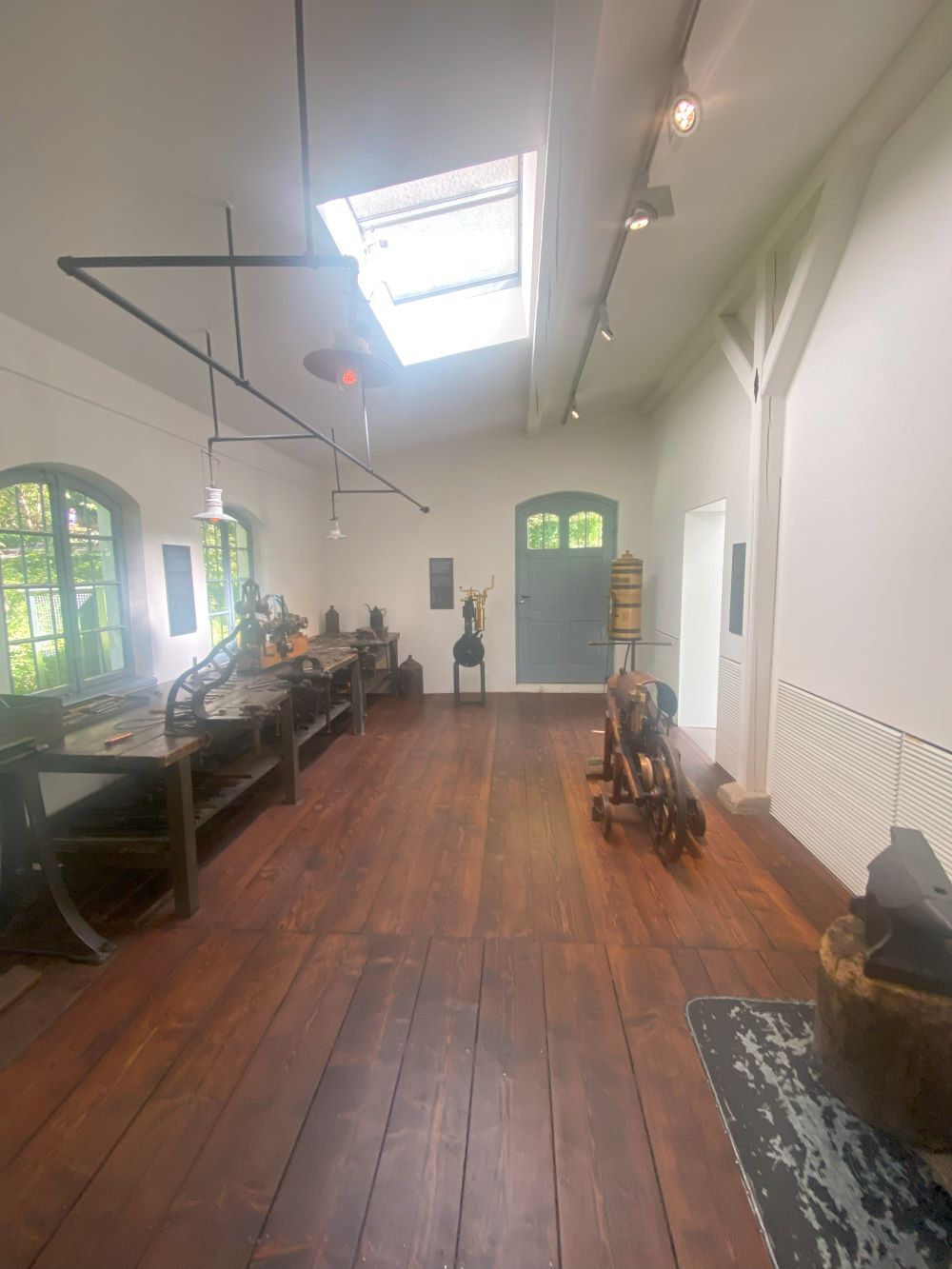 Gottlieb Daimler und Wilhelm Maybach verlassen 1882 Köln und lassen sich in Bad Cannstatt nieder. Gottlieb Daimler kauft in der Taubenheimstraße eine Villa mit großzügiger Parklandschaft am Rande des Cannstatter Kurparks. Auf dem Grundstück befand sich bereits ein kleines Gewächshaus. Kurz nach dem Kauf der Villa, ließ Gottlieb Daimler an das kleine Gewächshaus einen massiven Anbau aus Backsteinen errichten (siehe Foto). Ziel war es, in dem nun erweiterten Gewächshaus eine Versuchswerkstatt einzurichten. Um seine Entwicklungen, welche er gemeinsam mit seinem Partner Wilhelm Maybach betrieb, vor neugierigen Blicken und damit vor den Augen der Konkurrenten zu schützen, wurden die Fenster verdunkelt. Der Raum mit Werkzeugbank, Drehmaschine und Schmiede wurde das Refugium von Wilhelm Maybach.
Hier wollte Maybach seine Vision von einem leichten Universalmotor fuer Fahrzeuge zu Wasser, zu Lande und in der Luft verwirklichen. Maybach und Daimler arbeiteten Tag und Nacht unter strengster Geheimhaltung. Selbst die Familie wusste nicht, was im Gartenhaus vor sich ging. Daimler's misstrauischer Gärtner holte sogar die Polizei — er glaubte, im Gartenhaus befände sich eine Werkstatt zur Herstellung von Falschgeld. Die Überraschung war groß, als die Polizei nur Werkzeuge und Motorteile fanden.
Im Gewächshaus der Daimler Villa tüftelt Wilhelm Maybach an einem leichten,
schnelllaufenden Ottomotor, der sich, anders als die bisherigen Motoren, in
Fahrzeuge einbauen ließ. Bereits 1883 lief der erste Versuchsmotor, betrieben mit
Leuchtgas, an dem auch die eigens entwickelte Glührohrzündung erprobt wurde.
Als Ergebnis dieser ersten Schaffensperiode, entwickelte Wilhelm Maybach bis
1885 einen luftgekühlten, 0,5 PS starken Motor, der aufgrund seiner
charakteristischen Form auch "Standuhr" genannt wurde. Die als Fahrzeugmotor
konstruierte Standuhr wurde im Handumdrehen in verschiedene Gefährte
eingebaut. Den Anfang machte noch 1885 ein verstärkter Fahrradrahmen, womit
das erste motorisierte Fahrzeug der Welt, der "Petrol-​Reitwagen", ein Motorrad
darstellte. Es folgten 1886 ein motorisiertes Boot, dass auf dem Neckar für
Aufsehen sorgte und eine motorisierte Kutsche. Auch ein Luftschiff wurde bereits
mit der Standuhr motorisiert. Daimler ließ auf seinem Grundstück auch die
Gehwege erweitern, um die Versuchsfahrten möglichst geheim zu halten. Die
Entwicklung des modernen Individualverkehrs fand somit auf diesem Grundstück in
Bad Cannstatt statt — eine unglaubliche Geschichte.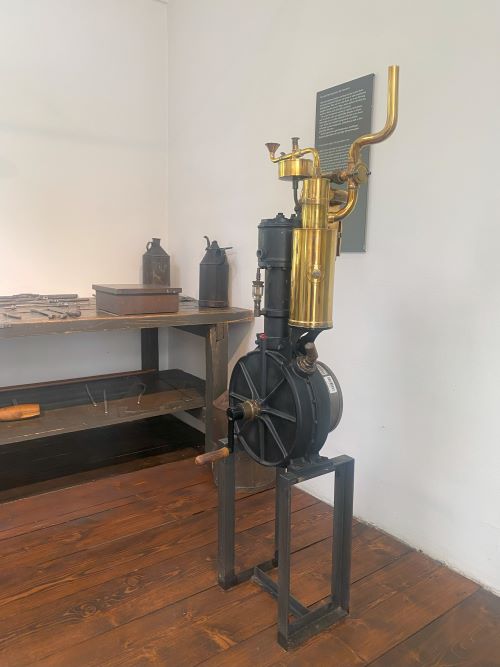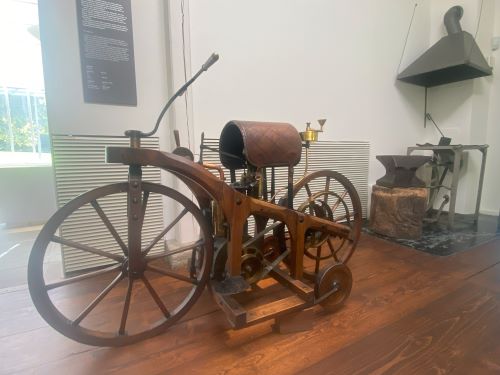 "Standuhr" und Reitwagen in der Versuchswerkstatt von Wilhelm Maybach und Gottlieb
Daimler in Bad Cannstatt. Foto : Tobias Erne (Wilhelm und Karl Maybach Stiftung).
Im Juli 1887 bezogen Daimler und Maybach eine "Fabrik" auf dem Seelberg in
Cannstatt. Es gab dort mehr Ausdehnungsmöglichkeiten. Im November 1890 wurde
die Daimler Motoren Gesellschaft AG (DMG) gegründet, aus der Wilhelm Maybach
aber bereits im Februar 1891 ausschied.
Heute ist in dem Gewächshaus mit Anbau ein kleines Museum zum Gedenken
dieser ersten gemeinsamen Schaffensperiode von Gottlieb Daimler und Wilhelm
Maybach eingerichtet. Die Werkbank, die Werkzeuge, die Beleuchtung – alles
vermittelt die Werkstattatmosphäre, wie sie vor gut 140 Jahren gewesen sein muss.
Mit viel Liebe zum Detail wurde die Gedächtnisstätte als kleines Museum
eingerichtet. Es sind unter anderem Modelle des von Maybach entwickelten
Motorschiffes, des "Wolfertschen Luftschiffes", die oben beschriebene
Motorkutsche sowie zwei maßstabsgetreue Modelle der "Standuhr" und des
"Reitwagens" entstanden, genauso wie die Büste des berühmten Automobilbauers
Gottlieb Daimler und Wilhelm Maybach. Zudem kann der interessierte Besucher in
einer Chronik einiges über die Lebensstationen und die Familie Gottfried Daimlers
erfahren. Die Villa von Gottlieb Daimler wurde 1936 von der Stadt Stuttgart zu
einem Kurheim umgebaut und bei einem Luftangriff 1944 zerstört. Heute sind noch
die Grundmauern erhalten.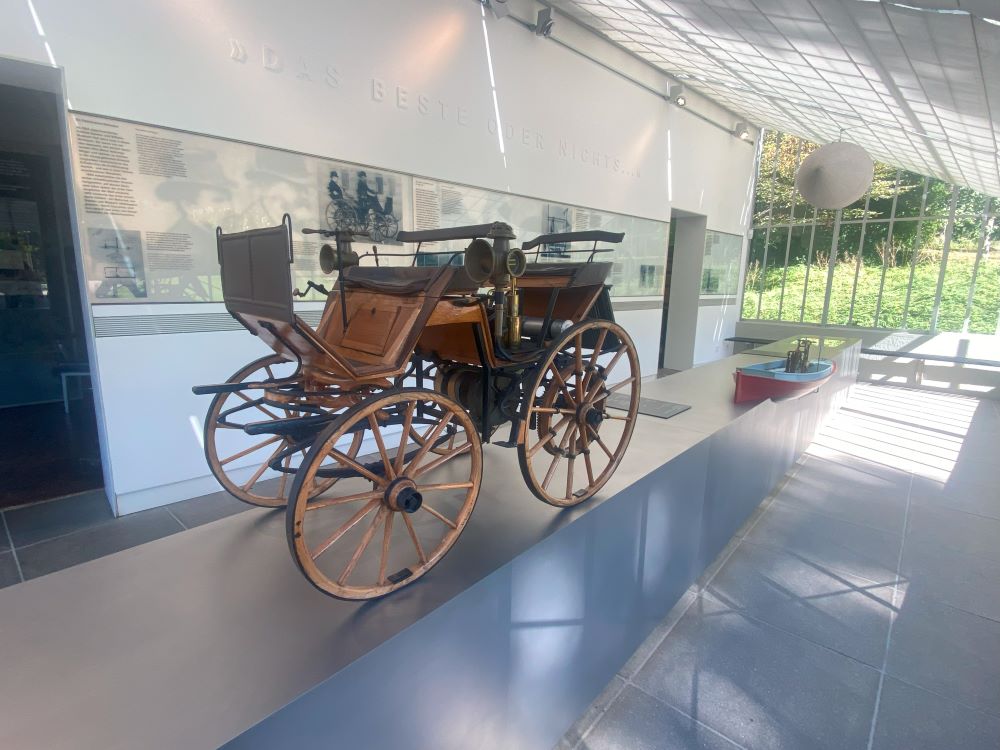 In Sichtweite des ehemaligen Gewächshauses kann man am Rand des Kurparks
direkt zur Taubenheimstraße hin noch ein paar Reste der ehemaligen Daimler-Villa
finden. Auf einer leichten Anhöhe des Parks, oberhalb des Gewächshauses stehen
noch die sogenannte "Wandelhalle" und der "Daimlerturm". An seinem Standort auf
einer Anhöhe der Parkanlage wirkt der Turm fast ein wenig deplatziert. Dies mag
unter anderem an der relativ groben Fassade aus Travertinstein liegen, welche im
Kontrast zu den glatt verputzten weiteren Bauten im Kurpark gesehen werden
kann. Die Gründe für die Errichtung des Turmes sind nicht bekannt. Wir wissen
aber, dass Daimler darin Freunde zum Feiern und Singen empfangen hat. Ebenso
ist der Turm von Daimler auch als Rückzugsort zum Nachdenken genutzt worden.
In den 1930er Jahren wurde der Turm auf seine heutige Höhe von rund 15 m
aufgestockt. Von seiner Plattform aus wird dem Besucher ein schöner Blick über
den nahen Uff-​Kirchhof, auf welchem sowohl Wilhelm Maybach, wie auch Gottlieb
Daimler ihre letzte Ruhestätte gefunden haben, die Mercedes-​Benz-​Arena bis hin
zum Rotenberg geboten. Seit einigen Jahren ist der Turm aus Sicherheitsgründen
leider nicht mehr für die Öffentlichkeit zugänglich. Vereinzelt wird er noch am ‹Tag
des offenen Denkmals› geöffnet.
Ein Besuch des malerischen Areals und des Gewächshauses in Bad Cannstatt
können wir unserer Maybach-​Community sehr empfehlen. Der Eintritt ist kostenfrei.
Öffnungszeiten
Dienstag — Freitag : 13:00 — 17:00 Uhr
Sa — So, Feiertage : 11:00 — 17:00 Uhr
Montags geschlossen.
Lage & Kontakt
Gottlieb-Daimler-Gedächtnisstätte
Taubenheimstraße 13
70372 Stuttgart