This month we will present you an interview between two legends. We are talking about Ulrich Schmid-​Maybach the founder and president of the Maybach Foundation and Michael Schwab one of the most renown artist in the United States.
As you might know, Michael Schwab designed the DNA Markers collection for the Maybach Foundation. Today, we will dive a little bit into Michael's past and how he became such a renowned artist who's art you can even see on most National Park signs.
Here's the Interview between Ulrich Schmid-​Maybach (USM) and Michael Schwab (MS):
USM : You were born and raised in Oklahoma and went to college in Texas. What brought you out here to the Bay Area ?
MS : I grew up in Oklahoma before going to a great art school in Texas. I found myself with in the study of design back then and I ended up going from Texas to New York. From there I went to a great design school in Los Angeles ; graphic design, illustration and film. I remember in the halls of this art school, I passed by a classroom where guys would be modeling sleek transportation designs and I remember thinking : « Wow that's what cars are going to look like in the future. » It was funny, 10 years later that's what they really looked like.
USM : How did you get into this profession ? When did you know that was what you were wanting to do ?
MS : I always knew this is what I was wanting to do especially after my education in New York. This really helped me elevate it to another level. I was in school already, the kid in class that could draw, and I learned to enjoy everything that comes with this job. Which I think is quite unique if you can say you love what you do.
USM : Coming back to Maybach now. How did you approach the yacht poster for Maybach ?
MS : This is a singular iconic piece that I made for the Maybach Foundation. I wanted to keep it bold and simple. I didn't want people to look too much on the little things on the boat or any of the detail on the ship. There are so many things to look at in the world and I try to keep my art very bold and easy to look at. It should be pleasant to look at because it's not complicated. This is a magnificent seacraft ; this ship and this craft. I wanted to evoke that power and a dream, this is usually what I go for as it's almost like theater and I am going for the drama. The drama and the beauty of it is the true essence.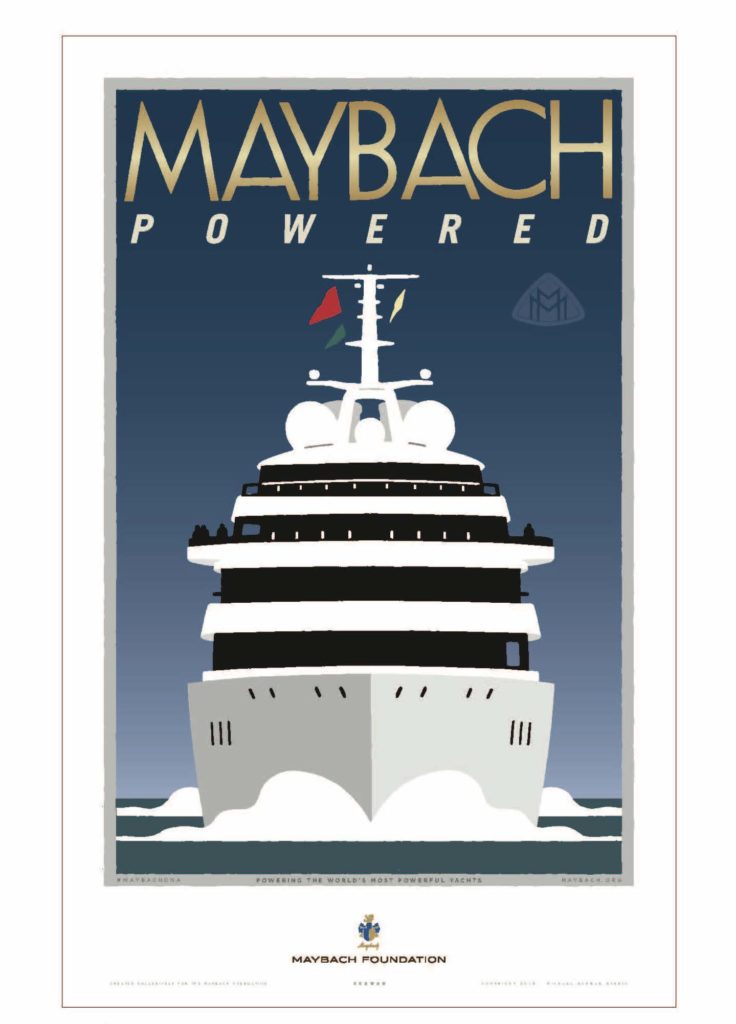 USM : You won some significant awards for the art work you did with Maybach. Can you tell us a bit about that ? What's this mean to you ?
MS:Romance and drama come into my work and that's what I wanted to do with Maybach. I became successful with the images of the American west (Amtrak for example). By land, by air and by sea and I also hope by street which means there might be a car in the future as well. I think winning these awards for the work I did for Maybach does mean a lot and shows that this is a good match up between Maybach x Schwab.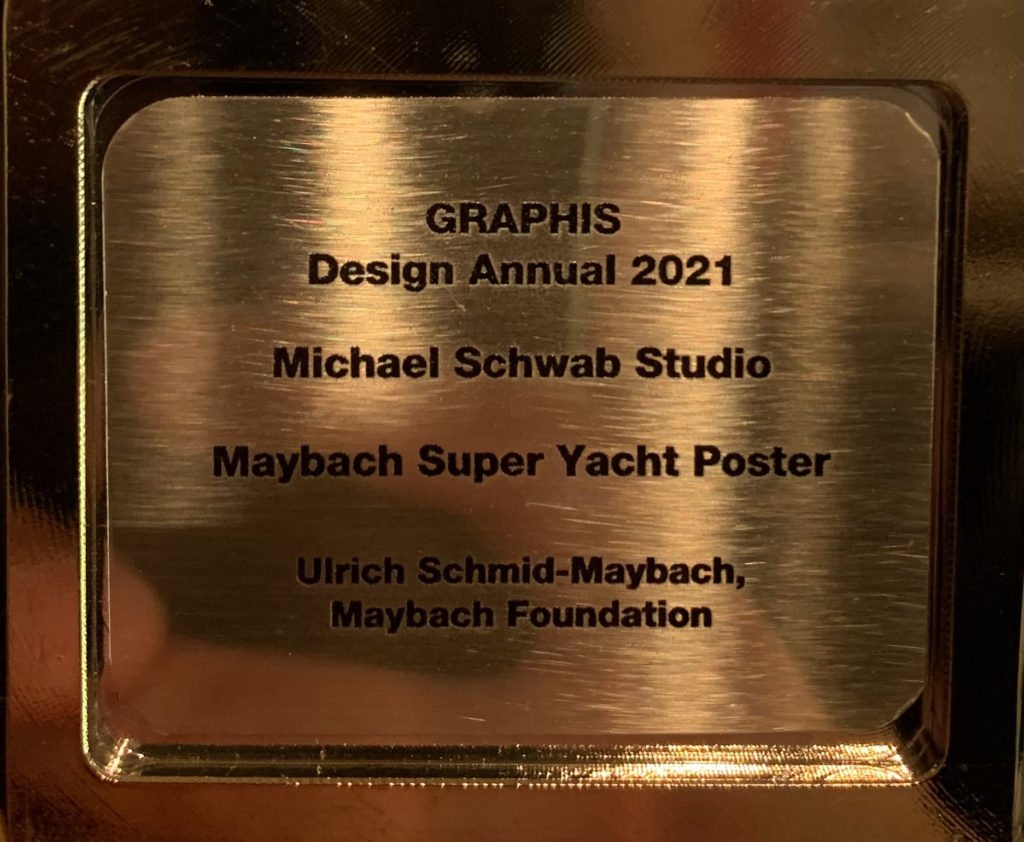 USM : If you would do another poster for Maybach like a car for example, how would you approach that ?
MS : For a car I would have to go horizontal. I would look at the car, how the shadows work, what the lines are and work of the drama of those lines of the vehicle. It would be ideal if there would be any way we could have a model. I would try to evoke what that car is really all about. That would be my goal in terms of this piece of art. I think for me graphically important is the romance of the car and design. The background must support the romance in it. I don't have a lot of flowery conversation on what the hero of the romance is. What Maybach's cars have is heroic and that makes it easy for me because I can create a unique hero.
USM : Pebble Beach just had its 70th anniversary and you have done art for it as well, what exactly did you do ?
MS : I did the Pebble Beach logo and it's the portrait of a lone cypress tree. If you buy any merchandise at Pebble Beach with the logo, I did that logo. It was great working with them and creating another piece of art that is lasting.
USM : How does it feel to see your artwork pretty much everywhere in the Bay Area, on National Park sign or on brands like Maybach ?
MS : I am getting older, and I see it out in front of me. It's making me realize and look back and say : « Wow ! I had a great run. » I was so busy working and being so dedicated even obsessive with my work. The more I think about it, it makes me realize I am feeling like : « Yeah, all that time really was well spent. » I do feel proud on almost everything I have done. I am leaving the Bay Area now and transitioning out to Montana where I bought 45 acres of land. I am at the point now where I am really picky about what I want to work on. It's very fulfilling out there, I am able to do physical work like I did in my childhood. It's fulfilling being able to still do that.
USM : Is there something you do today that you wished you had known years ago ?
MS : I think I would have been more assertive with more of my clients back in the old days. I was young and I was not a fine artist, I am not just an artist or a painter that paints whatever the client wants. I am a commercial artist, now we say graphic designer, or illustrator, but really I have a client and I have the permission to do something for the client.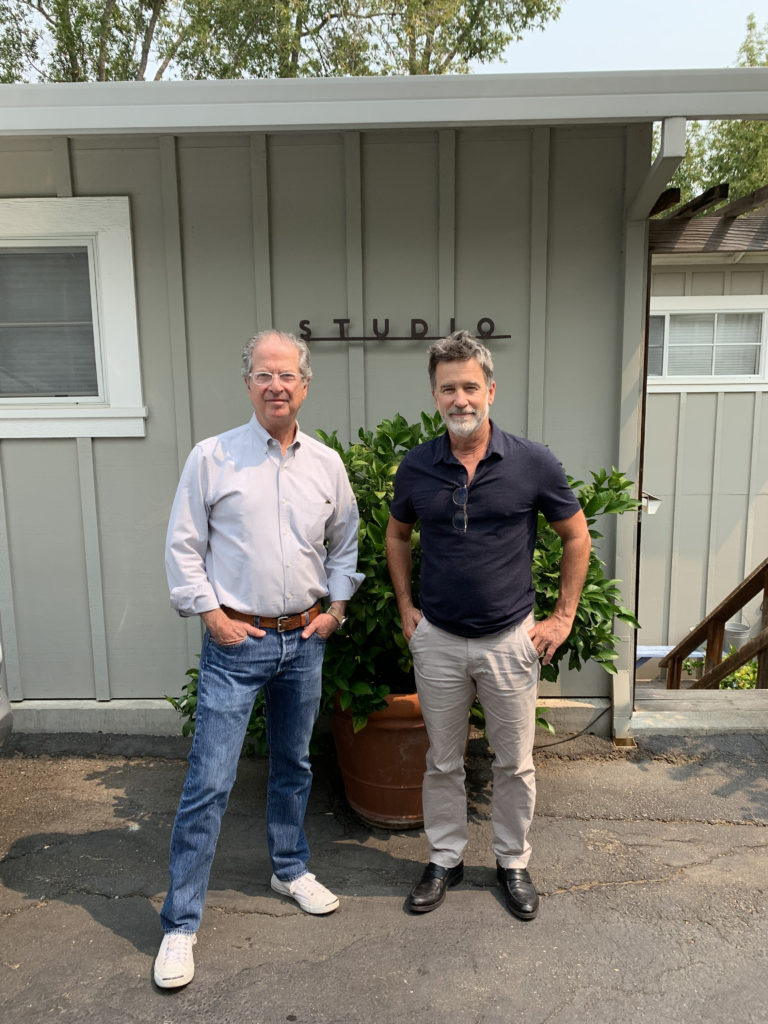 If you want to acquire some of the amazing art that Michael Schwab has done for the Maybach Foundation just check out our shop : https://​maybach​.org/​s​t​o​re/