Wilhelm Maybach – (February 9th 1846 – December 29th 1929) was a German engineer, designer, and industrialist. In 1883, he designed the first hi-​speed internal combustion engine and convinced Gottlieb Daimler to put it into a vehicle, resulting in Reitwagen – the world's first motorcycle. They went on to install similar engines with varying displacements on the other mobility applications such as coaches (cars), boats, and airships. Wilhelm's work heralded a new era in automotive design and technology and brought him the recognition of the "king of designers".
A true admirer of Wilhelm Maybach and his craftmanship, Emil Jellinek, a successful Austrian dealer and racer on the French Riviera, commissioned Wilhelm Maybach to build a state-​of-​the-​art racing car. If Wilhelm Maybach achieved this considerable engineering feat, Emil would further commission him with an order for 36 such automobiles at a cost of 550,000 gold marks. In 1901, Wilhelm Maybach was successful in creating such a car and name it after Emil Jellinek's daughter "Mercedes" – creating the first Mercedes automobile. In 1900, Wilhelm Maybach with his son Karl played a key role in helping Count Ferdinand von Zeppelin in improving Zeppelin engines. Sixteen years later, they developed a 160 HP aircraft engine that sold 2,000 units. But with the evolving political landscape of the time, Wilhelm and Karl shifted their focus to manufacturing high-​speed diesel engines for naval and railroad use.
Like father like son, Karl Maybach was an exemplary engineer. It was the constant transfer of knowledge from father to son and the lively exchange between the two on a wide range of design topics that made Karl achieve this status. Looking for help and being aware of Karl Maybach's superior engineering capabilities, Count Ferdinand von Zeppelin created Luftfahrzeug Motorenbau GmbH airship engine factory with Wilhelm & Karl Maybach. A few years later in 1912, the company moved to Friedrichshafen, changed its name to Motorenbau Friedrichshafen. Wilhelm and Karl also bought a significant share in this company and Karl Maybach became its Technical Director. At the peak of this joint venture, Karl was producing the majority of the engines for airships.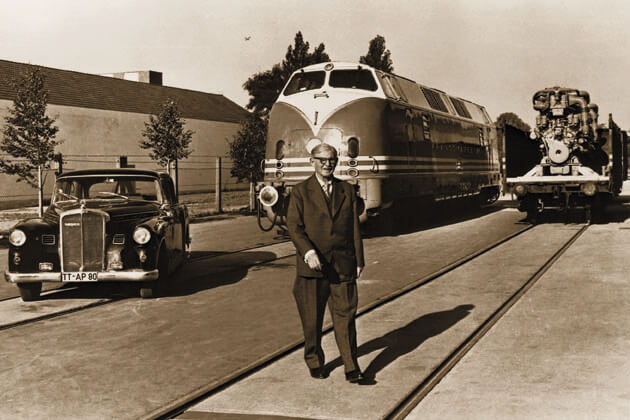 In 1918, Wilhelm & Karl again brought a change to the name of the company to Maybach Motorenbau GmbH. Concurrently, in light of the evolving political landscape (The Versailles Treaty), Karl Maybach shifted his focus to designing engines and propulsion systems for cars, railroads and marine applications. Just as Wilhelm, Karl had a strong desire to build state-​of-​the-​art vehicles that led him to invent the Zeppelin line of cars, his most famous design work. During this intervening period, Karl also designed the two high-​speed diesel engines for "The SVT 137856", achieving a sustained speed of 100 mph (160 km/​h) and up to 128 mph (205 km/​h) in some conditions. This invention of the 1930s led him to achieve a world speed record of the time that, also, could not be broken for the next 40 years.
When Karl Maybach was in charge of Maybach-​Motorenbau GmbH in Friedrichshafen, he soon realized that only specially trained engineers could meet the perfectionist standards that he himself set for his work. The training workshop founded by Karl Maybach in 1919 was joined two years later by an affiliated factory school, which was attended by apprentices from the entire Zeppelin Group. Maybach was thus one of the first in Württemberg, Germany to implement the dual training principle devised by Ferdinand von Steinbeis in the middle of the last century. The high-​quality standards that the Maybach designs had to meet were ingrained in training the future engineers in this workshop and became the benchmark to adhere to. This training workshop continues to exist today.
The Schmid-​Maybach family's long-​held wish was to pay tribute to this legacy of great designs, ingenious engineering, and knowledge transfer. The Wilhelm & Karl Maybach Foundation was set up for this very purpose. Since then, the foundation has helped young people develop their extraordinary talents through individual projects and implement ideas that benefit society. This is achieved from targeted support, especially from mentors who come from the Foundation's extensive network. In this way, the Foundation maintains the bond of support and constant knowledge transfer that Wilhelm and Karl Maybach experienced and established themselves.