Maybach Foundation launches its own exhibition showcase in Friedrichshafen : « 100 Years of Maybach Automobiles 1921 — 2021 »
In January 2022, the ‹Wilhelm and Karl Maybach Foundation› has opened its own exhibition showcase in the city of Friedrichshafen : Our exhibition team in Germany has developed a modular concept for the flexible, multi-​use of the showcase for exhibition purposes. By applying innovative technology, it is possible to combine classic exhibition methods with modern, virtual presentation approaches. Along our Maybach collection of exhibit objects, the exhibition showcase is now a further harbinger of our goal to establish a Maybach Museum in Friedrichshafen to honor the significant developments of Maybach-​Motorenbau GmbH and the paying tribute to the Maybach legacy. The showcase will present a series of Maybach exhibitions and start with our pop-​up exhibition « 100 Years of Maybach Automobiles 1921 — 2021 ». In cooperation with the ‹Freundeskreis Maybach Museum e.V.›, further presentations with exciting exhibition objects are planned throughout 2022.
Exhibition showcase as a portal to a virtual information platform
Due to the COVID-​19 pandemic developments in the past two years, it has been rather difficult for museums, galleries and other institutions with visitor traffic to plan and present their own exhibitions to their audience. The possibility of presenting exhibitions virtually on the internet has many advantages, but also excludes people who do not have sufficient technical experience by using new media devices. In addition, a virtually imaged object, for example through 360-​degree photography, cannot fully convey the authenticity and impact of the historical object. The ‹Wilhelm and Karl Maybach Foundation›-team has discussed those problems in detailat length, analyzed the options and sought effective solutions to the following questions : How can museums offer their educational portfolio in the future to become more informative, aesthetic, modern and excitingly presented but at the same time interactive and digital as well for a multi-​facet-​audience ? What does an exhibition look like that has analog and digital information needs ? In short : What will a museum of the future look like ?
As a next step, we would like to test the ideas and insights we have gathered to date in practice. For that reason, we are currently working on an exhibition concept that combines established methods of museological integration (for example, the use of display objects, photographic material, texts) with virtual integration levels as well. We believe that in the future, both areas of interaction can only function and complement each together. Our goal is to unite the physical level with a digital level of integration.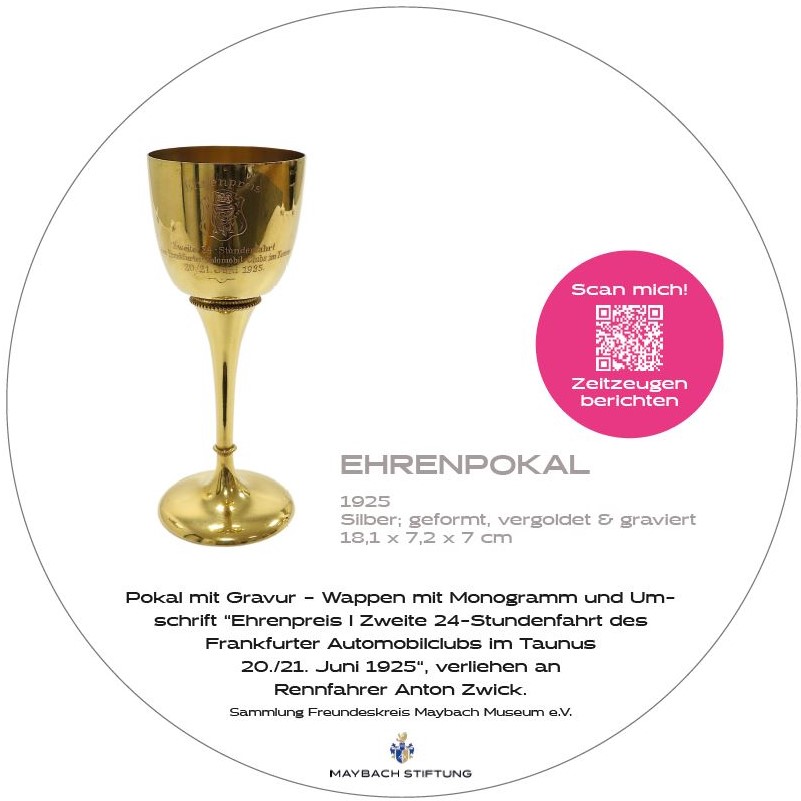 We have presented the first results of our studies in 2021. Our pop-​up exhibition « 100 Years of Maybach Automobiles 1921 — 2021 », which we presented at Café Gessler 1862 in Friedrichshafen, already combined a physical and a virtual exhibition approach. Interactive integration levels were assigned to all exhibition objects. With the help of QR-​codes, for exampl interviews with contemporary live-​witnesses and other information materials could be called up. This opens up a nearly unlimited digital presentation space with great opportunities for our exhibition team – and our Maybach audience.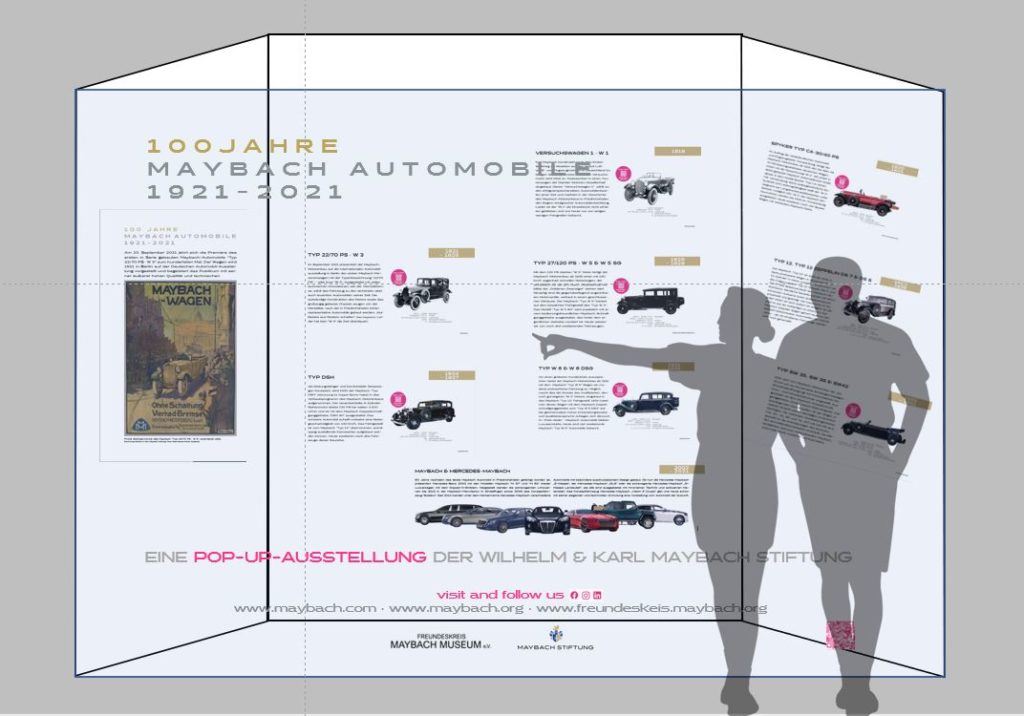 In a next step, we have moved our pop-​up exhibition into a showcase for the public to enjoy the exhibition in Friedrichshafen. The showcase was converted exclusively for exhibition purposes with special building materials for a flexible use and can be utilized in a modular way. This means that various Maybach exhibit objects and image materials as well as foils and media presentations can be applied without any issues. The showcase can be described as a public museum portal in the city. It enables the viewers in Friedrichshafen to consume museum educational offerings in a completely flexible and freely available way, independent of opening hours or, for example, admission restrictions : around the clock, 24 hours a day. In addition to the presentation of Maybach objects, images, and film material — as well as specials regarding the history of Maybach, QR codes serve as an ideal interface to virtual exhibition spaces. The showcase will thus become a permanent landmark and part of the museum's offering in Friedrichshafen. In close cooperation with the ‹Freundeskreis Maybach Museum e.V.› and other partners, the ‹Wilhelm and Karl Maybach Foundation› will from now on regularly present topics about the complex Maybach history in the showcase and many other locations.
Pop-​up exhibition « 100 Years of Maybach Automobiles 1921 — 2021 » with three new locations in Q1 and Q2, 2022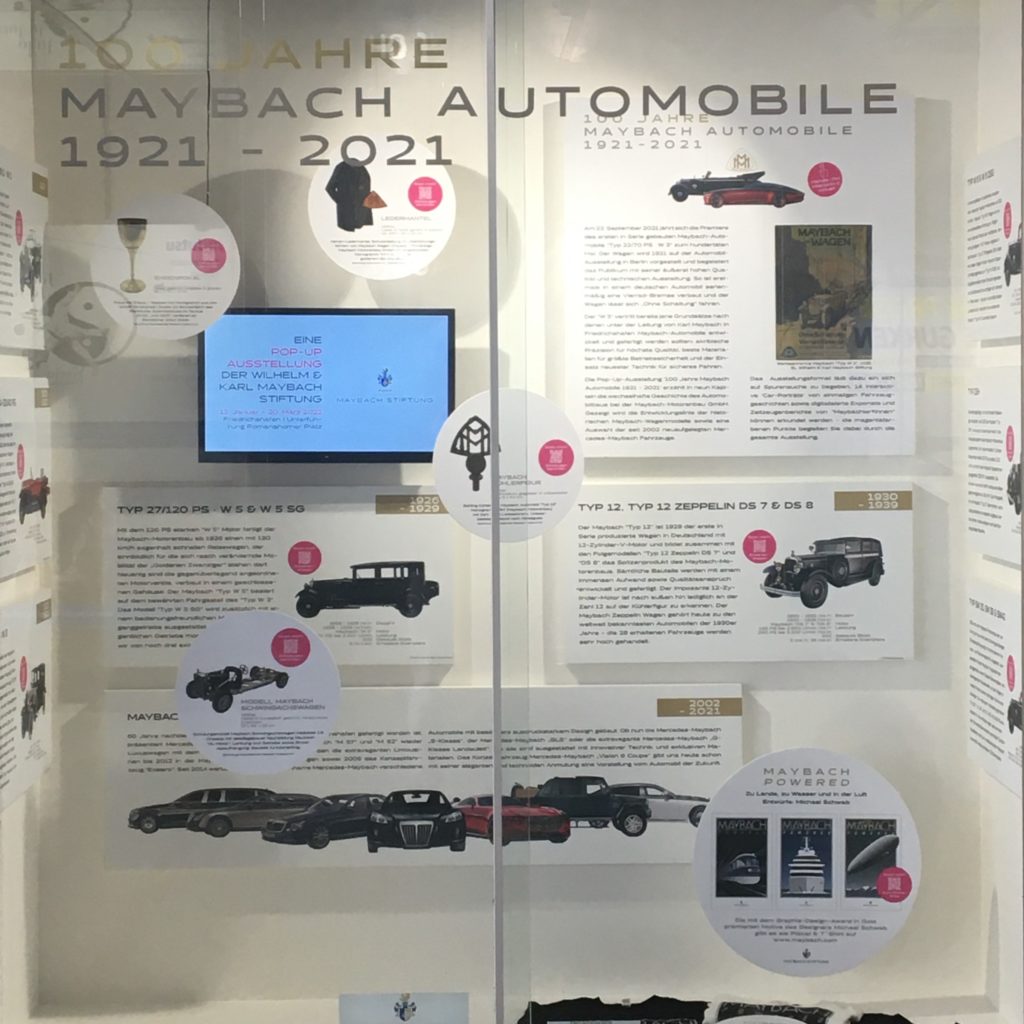 For the inauguration of the showcase, the ‹Wilhelm and Karl Maybach Foundation› in cooperation with the ‹Freundeskreis Maybach Museum e.V.› is presenting the pop-​up exhibition « 100 Years of Maybach Automobiles 1921 — 2021 ». After being on display for ten days in Café Gessler 1862 in 2021, the show can now be seen as an opening exhibition from January 17 to March 20, 2022 in our new exhibition display. The exhibition tells the multi-​layered story of automotive engineering at Maybach-​Motorenbau GmbH in nine chapters. The development of the historic Maybach car models is presented as well as a selection of the Mercedes-​Maybach and Maybach vehicles reissued since 2002. Beginning in 1919 with the « Versuchswagen 1 » (experimental car 1) with the newly developed « W 1 » car engine, through the Maybach automobiles of the « Type W 3 » and « Type W 5 », to the legendary Maybach « Type 12 Zeppelin » of the 1930s and to the high-​selling Maybach ‹Schwingachswagen›. Finally, with the presentation of the Mercedes-​Maybach « Vision 6 » electric concept car, the exhibition looks into the future of automobility.
Read all about the Maybach Automobile history in our blog article : https://​maybach​.org/​1​0​0​-​y​e​a​r​s​-​o​f​-​m​a​y​b​a​c​h​-​a​u​t​o​m​o​b​i​l​e​s​-​1​921 – 2021/
Selected objects from the museum collection of the ‹Freundeskreis Maybach Museum e.V.› and the ‹Wilhelm and Karl Maybach Foundation› are presented including themes of automotive technology, racing and the Maybach corporate culture of values with the support of elaborately designed exhibit photography. The exhibition format invites visitors, from interested passers-​by to Maybach enthusiasts alike, to embark on a search for clues themselves. 14 interactive thematic modules with automobile portraits of unique vehicle histories, digitized exhibits, and eyewitness accounts from Maybach vehicles can be explored.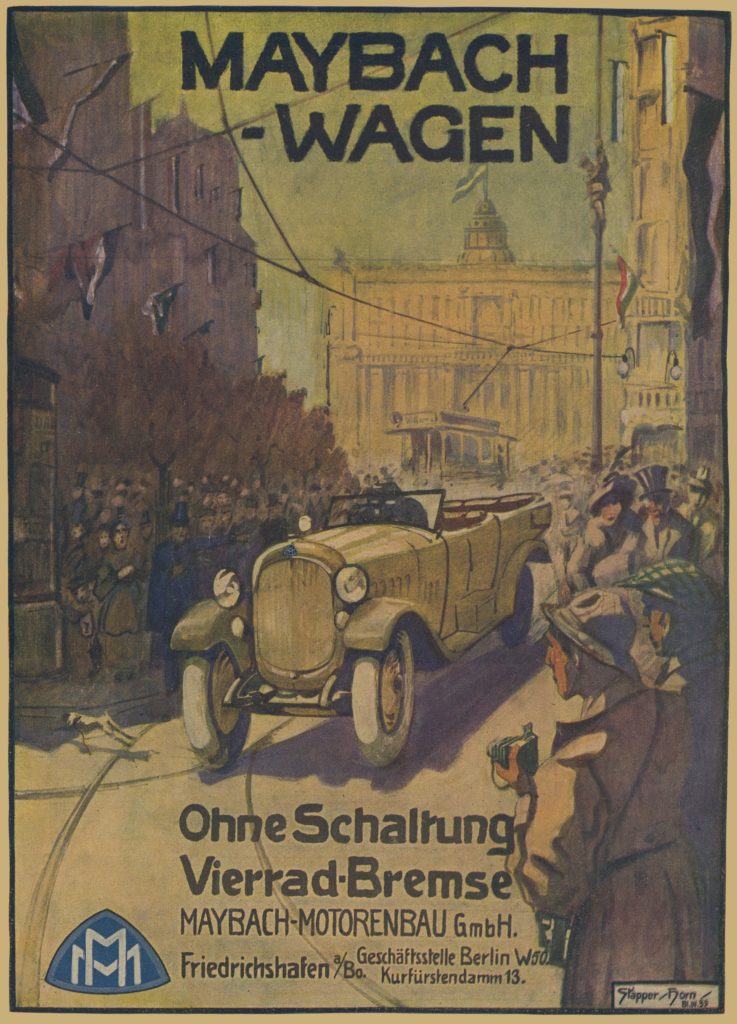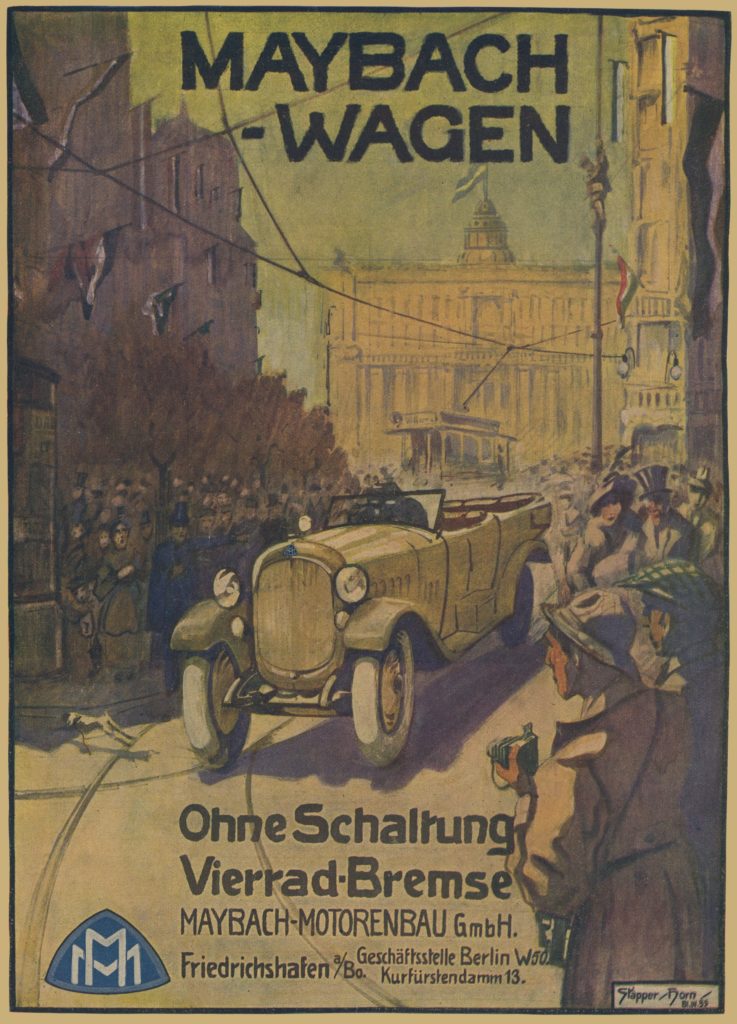 This year, the exhibition will then be on display at a large scale event ! From May, 6 to 8 2022, the ‹Motor World Classics› trade fair will take place in Friedrichshafen — 40,000 visitors are expected. Our special exhibition on Maybach automobile history will be shown together with original Maybach vehicles. This summer, we will present the exhibition at the Wilhelm Maybach School in Heilbronn. The school awards the ‹Wilhelm Maybach Prize› donated by the Schmid-​Maybach family.
We will be happy to keep you informed about the further development of our exhibition concept. If you have any questions or suggestions, please write to us at contact@​maybach.​org.