Our Excellence in Mentoring Leadership program provides extraordinarily talented young adults from disadvantaged circumstances with opportunities to connect with and be mentored by distinguished global leaders.
The Food Movement Leadership Project
In 2013, we selected Tessa Tricks, a Master of Arts in Food Anthropology from the SOAS University of London, to work with Sarah Weiner and the Seedling Projects organization. Tessa Tricks was nominated by Aine Morris of the Sustainable Food Trust for her involvement with the Slow Food movement and her strong commitment to solving food system issues.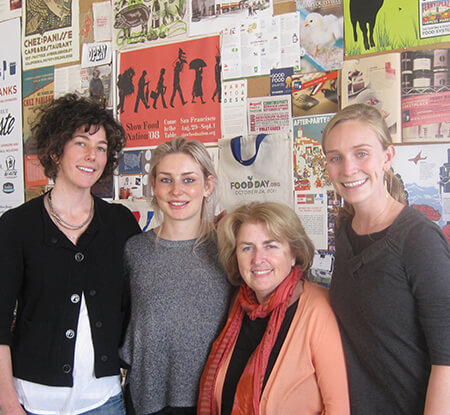 Sarah Weiner, Tessa Tricks, and the Seedling Projects leadership
During her stay in the San Francisco Bay Area and her Maybach Foundation fellowship, Tessa forged new relationships through her mentor's extensive network. She also investigated the best practices of the sustainable food movement in the U.S. and played a key role in organizing the 2014 Good Food Awards.
As a protégé of the Maybach Foundation and the Seedling Projects, Tessa's mentorship further included engagement with Food Movement actors, national growers and producers, as well as community project involvement.
Tessa completed her Masters with a thesis on offal and animal bi-​production circulation. She joined the Sustainable Food Trust and has since worked in many organizations which focus on food systems issues.
Currently, she is the Creative Partner at Hubbub UK, a non-​profit organization which communicates environmental issues to the public as well as policymakers.
Sustainable Fishing
In 2013, we paired Amanda LaBelle with Monique Coombs, Director of Marine Programs for the Maine Coast Fishermen's Association.
Prior to this project, Amanda earned her Masters in Public Administration from Cornell University and became active in the Maine Seafood Marketing Network. Both Amanda and Monique were interested to dive deep into the drawbacks of the current distribution system and how to support the sea-​to-​table effort.
During the course of this mentorship, Amanda explored opportunities and challenges for integrating seafood into local food systems, focusing on Maine's rich fishing industry.
In her "Integrating Seafood Into Maine's Food Systems » presentation above, Amanda points out that 90 percent of the fish we eat is imported and numerous other insights as well as comparisons between fishing and farming.